Shopping Cart
Your Cart is Empty
There was an error with PayPal
Click here to try again
Thank you for your business!
You should be receiving an order confirmation from Paypal shortly.
Exit Shopping Cart
| | |
| --- | --- |
| Posted on November 5, 2010 at 9:31 AM | |
 Absinthe Custom Print Design Studio's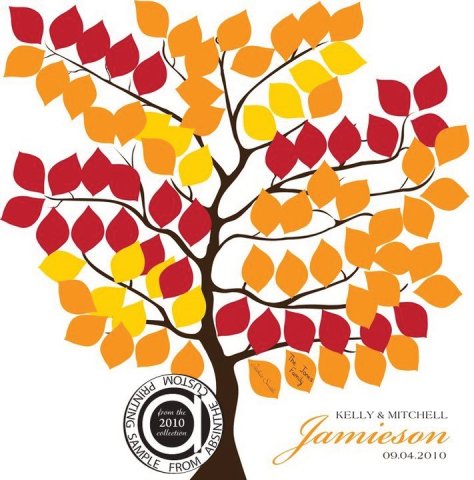 This vendor hold a special place in my heart. It is a pleasure to introduce Kim Slugocki owner and graphic designer of Absinthe Custom Print Design Studio's.
I met Kim a little over a year ago while planning my wedding. I came across Kim's shop on Esty. (Please keep in mind I do not suggest this for everyone, I got very lucky finding Kim. If you do choose a vendor from a site such as Esty or Ebay as  with any vendor you hire....RESEARCH, RESEARCH, RESEARCH before you send any money.) My first order from Kim was for her signature item; A Guest Book Tree. I was so impressed with the quality of her work, that I asked if she could come up with a draft for my invites. I gave her an idea, she was able to take the vision I had in my head and design it for me.  Kim has/is doing my program fans, table numbers, invitation inserts, tags, all my signs, and much more. (Click on the photo of Kim's Guest Book Tree for a link to her Esty Shop)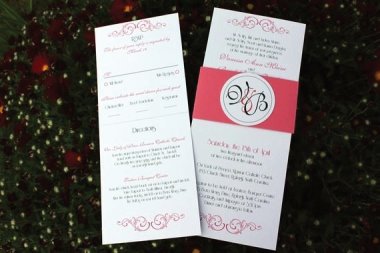 Kim has  been designing wedding stationery and coordinating pieces for almost 10 years. Everything from the very basic, to the ultra extravagant! If you have an idea, she can make it come to life and help you create a look to your event that people will remember for years to come.
If you're looking for something that you don't see - coordinating pieces, or something specific in a design - just ask! She  may have it... she don't list everything all the time.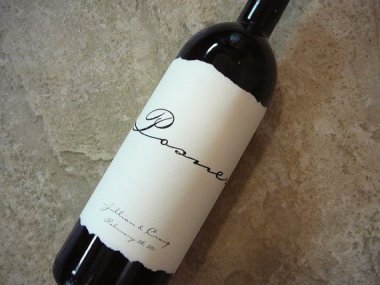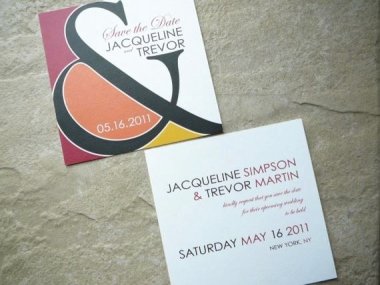 Q: What is the biggest misconception about design studios'?
- One comment I get often - People think that only 'large budget brides' can afford to hire a good designer for their wedding printed coordinates. I've seen so many invites and other wedding projects that the bride doesn't particularly like, but she 'settled' on it because that's what she thought would be the most economical route.  Having a graphic designer as a part of your wedding planning team is an excellent resource for creating your overall look and feel of the event, and really doesn't have to cost an arm and a leg.
Q: What are a few mistakes brides make when choosing a graphic artist? 
- The biggest mistake anyone can make is not asking for samples.  Sure, you've seen their portfolio and what they have to offer, but by all means, get yourself a sample of what YOUR actual piece will be. Sometimes a full sample just isn't practical (for example, a large format print), but you should always get paper and print swatches - at least in your colors and using your materials/medium. 
 
Q: What things should a bride look for when hiring a design studio?  How important is it for the Bride to feel a connection with artist?
- The first thing to look for is pretty obvious - look at their design style.  Does it have the look and feel that matches both you and your event? If not, are they open to suggestion and change, or would they be able to do custom work for you?  However, if their style is completely the opposite end of the spectrum (say you're looking for something clean-edged and modern, but all of their work is loose and sketchy) that's probably not the studio for you.   Also look for a studio that's willing to talk to you about your event and the ideas you have. Even if you've only thought of a few things here and there, tell them or show them your inspiration pictures....then sit back and gage their response. Are they on track? Do the 'get' it?  We're only human, and it's true that not everything communicated through email comes through exactly as we intend it to be, so definitely do you best to clarify your ideas if the response isn't great....but if you're getting no where with it after a couple of attempts, perhaps you should move on before wasting much more time.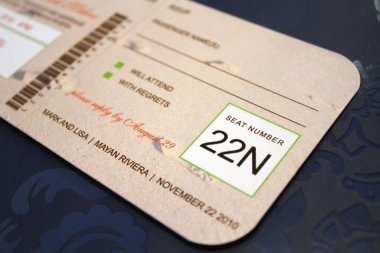 - The connection with your artist all depends on what type of relationship you'll have with them.  If you're just buying a quick, <INSERT NAME HERE> type item and that's all you plan on doing with this studio, then it really doesn't matter...as long as the service and final product is good.  If you're looking to work with them any more than that, and especially if you plan on having custom work done, then I feel it's very important that you feel comfortable and connect with your artist.  At the absolute least, you should be comfortable enough to tell them what you're looking for and also be able to them when what they've come up with is just not quite right. It's definitely much easier to work with someone who understands what your vision is, so don't be afraid to talk to your artist! Personally, I love hearing about what little details a bride's planning on having for her wedding...and often, it's these little things that become key design elements!  It's really not uncommon for me to more or less get to know my brides over the course of their wedding planning!
Q: What is one of the worst things that can happen when booking a graphic artist? And can this be avoided with proper planning?
- By far, the worst thing that can happen (aside from the obvious problem of not getting what you expected) is running out of time.  Some things just can't be done last minute!  Oh sure, I've been cutting and scoring place cards at 11pm on the Wednesday before a wedding just so I can ship the package out overnight the next day, something like that's ok (definitely not my preferred timing, but it happens!) but even with best intentions, there are certain items that just take more time than what's available.
- Planning ahead is key. Ask your designer right from the start what their timeline is...and stick to it!  Try not to procrastinate when approving proofs, but don't rush it either. You absolutely want to make sure the details are correct, so don't leave it until the last minute and then rush through the proofing process.



 Q: We all have heard the horror stories about "bad" artist's what are some "tip offs" that a design studio might not be the right fit for a Bride?
- It's like when you hire the wrong handyman...the pictures of his 'work; look great, but then when he comes to actually build your deck, it takes him 2 months and the lousy thing's falling apart.  Get that sample in your hands and check for quality work.  I'd also be leery of working with a studio/artist that takes a long time to get back to you or replies to your questions with a limited answer. Are these people actually going to have your stuff done on time? Do they care if it's done on time? Or good quality for that matter?  
 
Q: If a client had endless funds what unique idea/service or products would you offer them? 
- Oh wow... when the funds are endless, the possibilities are endless! There are SO many gorgeous (read: Expensive) specialty papers out there just waiting to be used!  ...and I'm not talking the typical sparkly ones, or ones with flower seeds embedded in them... there's everything from banana leaf and other natural fibers (including awesome printable wood 'paper') to beautiful hand made sheets, to endless synthetics. Speaking of synthetics... how about printing your place cards on acrylic or engraving your seating chart into Lucite?  I can even print on metals, glass and etch into granite... or perhaps have your wedding monogram and table numbers cut out of aluminum and sandwiched between blocks of crystal?  That could be a little over board... but maybe not if the funds are endless!  A few down-to-earth ideas would be creating custom die-cut programs, or having your monogram foil stamped on a few key items.
 
Q: What is the one thing bridal clients should review in contracts with their studio?  
- Not all studios work on a contact basis, but regardless you should find out and get in writing (e-mail's fine) what's included in the package/price.  Is it everything you wanted/needed? And most importantly, is it what you agreed upon with the designer?  The last thing you want is to find out that you're not getting what you expected...and now it's too late, or worse - the invoice is more than you budgeted for!  Hopefully whoever you work with will be upfront with you and flexible, but unfortunately not everyone is.
 
Q: What is the one thing you wish all of your clients knew when working with your company?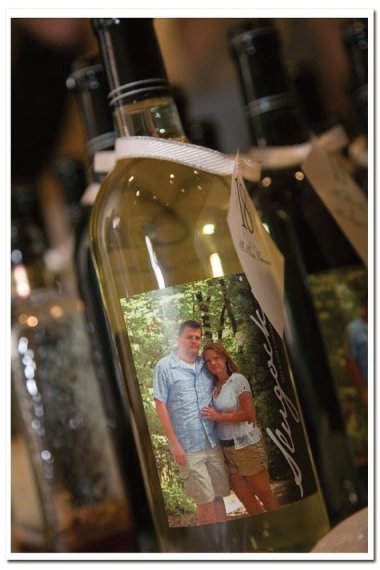 - If you like the style, but don't see something in the shop that's
exactly
what you're looking for, by all means ask for what you want!  It's funny, despite the name being Absinthe CUSTOM Printing, clients have a tendency to think that if an item looks a certain way, uses a certain font or color, than it can't be changed.  That's the beauty of working with a designer - you don't have to buy some 'cookie cutter' design off the shelf - it's all custom and can all be changed!  Feel free to mix and match elements from one design to another...and if it's not quite right, try another combo.  It's what we do...don't be shy!
Q: For Brides that are on a budget, are there options for them to help lower cost on stationary?
- Absolutely. I believe that everyone should be given the opportunity to have custom made stationery and other printed coordinates for their wedding.  There's something for every budget...and I'm also a strong believer that just because the price is cheap, it shouldn't have to LOOK cheap.  A big tip - sizing of individual items can play a big part in pricing!  If I can use less paper, do less printing, less cutting, less anything...of course I'll extend that on to you and it'll cost less!
Categories: Vendor Spotlight
/