Shopping Cart
Your Cart is Empty
There was an error with PayPal
Click here to try again
Thank you for your business!
You should be receiving an order confirmation from Paypal shortly.
Exit Shopping Cart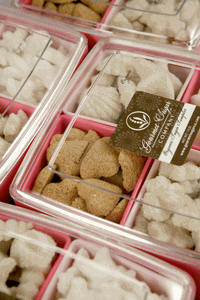 What to give as a favor for a bridal shower????
 Here is a "Sweet" idea.
Gourmet Sugar Company adds everyday elegance to your coffee and tea experience by going "outside the cube" to offer you beautifully shaped sugars to sweeten your coffee and tea.
They use only the finest organic sugar that is produced from 100% organic sugar cane juice as well as vegan sugar that goes through a 100% animal-free refining process. Their gourmet sugars come in a variety of shapes and flavors including: organic seashells, cinnamon hearts, peppermint shapes and vegan fleur de lys.
Gourmet sugars are available in over 50 shapes that can be used to customize any special occasion in your life. 
This game gives everyone a chance to show how well they know the bride to be! After taking the quiz, the bride reveals her answers. The highest score wins!
1. What is her favorite drink?
2. What is her wedding date?
3. Where is she going on her honeymoon?
4. How did she meet the groom?
5. If she could travel anywhere in the world, where would she go?
6. What super power would she choose?
7. Where did he propose?
8. What is the name of her dog?
9. What is her middle name?
10. What is her biggest pet peeve about the groom?
11. Where did they go on their first date?
12. What does she think is the groom's best feature?
13. What is her high school nickname?
14. What is her favorite ice cream flavor?
15. What was her college major?
16. What's her favorite sport?
17. When did the bride and groom meet?
18. How many countries has she visited?
19. What is her favorite song?
20. What is her favorite food?
21. What is her favorite movie?
22. Who does she think is the sexiest man other than her betrothed? 
23. Who would be her choice for a stripper?
24. How many kids does she want?
25. Does she prefer boy or girl?
/