Shopping Cart
Your Cart is Empty
There was an error with PayPal
Click here to try again
Thank you for your business!
You should be receiving an order confirmation from Paypal shortly.
Exit Shopping Cart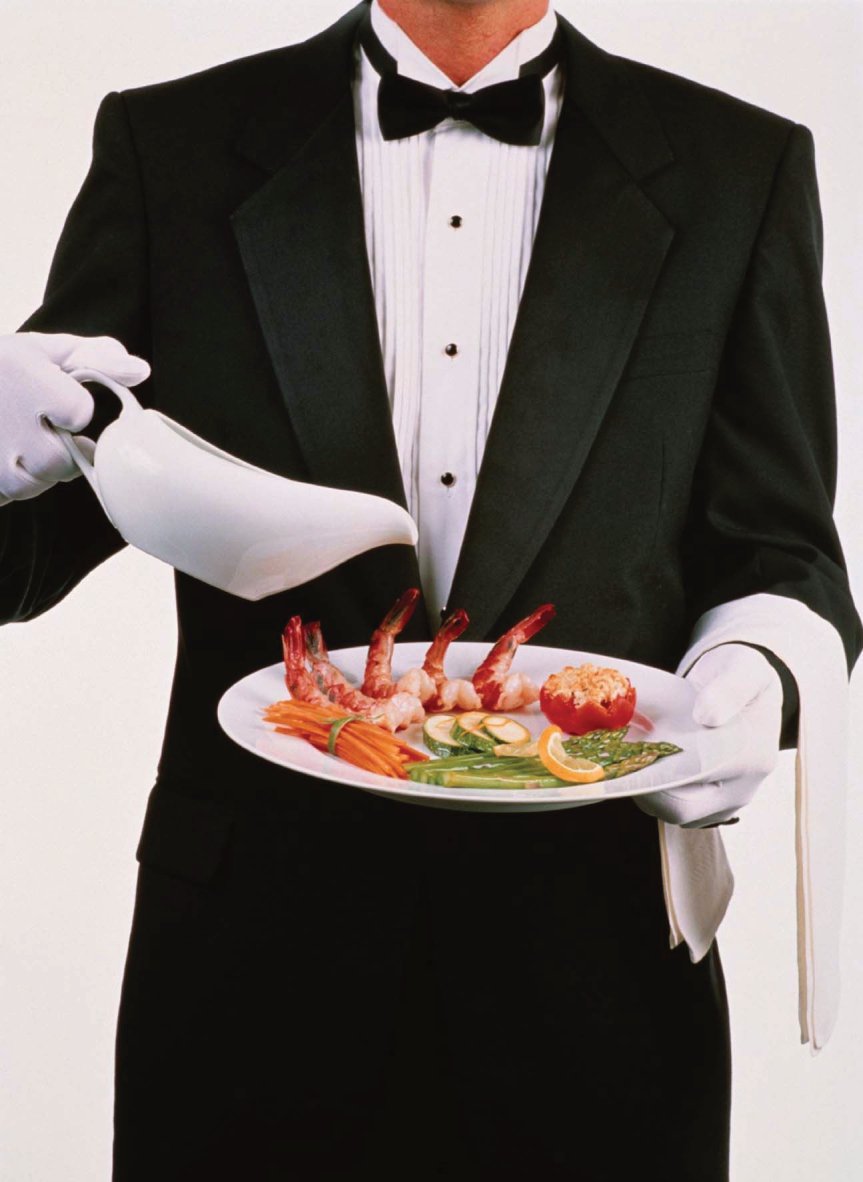 Tipping Wedding Vendors:
Rain's tipping guide
Who gets tipped and How much?
Tipping your wedding vendors is completely optional and should never be forced on ANY couple. Some vendors do offer tipping as part of their fees, but generally as a rule of thumb great service should dictate if tipping your vendors is warranted.
As in any other service industry, if your wedding vendor does an exceptional job, tips are always appreciated. It's a case by case basis and depends on your individual experience and what you believe to be fair.

In our research we've compiled a number of leading resources on etiquette and tipping to provide you a good general guideline for which vendors generally are tipped and by how much. Individual sites will indicate varying prices but this is a good starting point; and something that you would like  to keep in mind when working on your wedding budget.

.
Tips on Tipping
Tips should be given discreetly, in cash, and in individual envelopes.
Tips should be distributed by the reception host, best man, or the wedding coordinator right before the vendor leaves.
Vendors love thank you cards, kind words and glowing reviews if you enjoyed their services.

Read your contracts. Some vendors do include a tip as part of a service fee, when in doubt ask.

Hotel and Catering Staff
Caterer: 15%-20% of the total food and beverage bill (Usually included in the contract. Distributed to waiters, waitresses, table captains)
Bartender: 10% of bar bill (if separate from catering and not accepting tips from guests)
Parking Attendents: .50 - $1.00 per guest
Limo Drivers: 10%-15% (sometimes included in package)
Powder Room Attendents: .50 - $1.00 per guest
Wedding Professionals (Generally Tipped)
Wedding Planners: 10% - 20%
Clergy/Officiants: $100
Alter Servers: $10 - $25
Musicians (Cantors, Organists, Strings): $25 - $50
DJ: 10% - 20%
Band: 10% - 20%
Hair/Make-up: 15% - 20%
Wedding Professionals (Generally Not Tipped)
If out exceptional  service is provided, between 5% - 20% is acceptable for:
Photographers
Videographers
Baker
Jeweler
Wedding Consultant
Seamstress
Florist
In the end if they went above and beyond what they were required to do, helped make your day exceptional or otherwise took care of you tipping is always appreciated.
Creating Your Wedding Plan
By The Knot Editors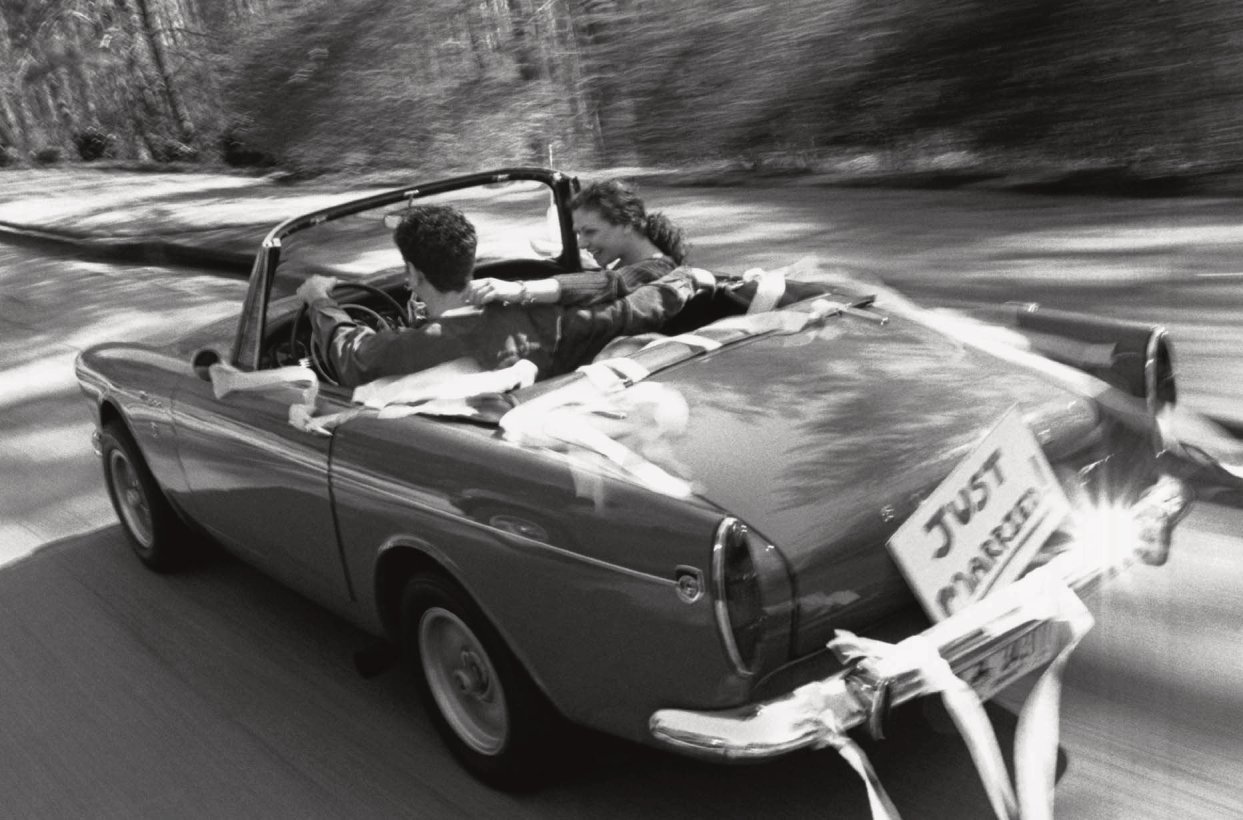 The secret to a gorgeous wedding is a definitive style and color scheme. And though carrying it through all the wedding day details may at first seem overwhelming, just take it one element at a time. To begin envisioning your perfect wedding day, you need to make some big-picture decisions. Decide the date (springtime, fall, winter?); the location (at home, in a ballroom, at a restaurant?); how formal it will be (sit-down dinner, laid-back brunch?); and the colors you'll use. Once you've done this, all other style details will fall into place. So let's get started.
When do we want our wedding to take place?
Whether fall is your favorite because of the foliage or you love spring because of the gardens, decide the season of your wedding and then settle on a month.
Where do we want to have our wedding/reception?
You may have decided long ago that your reception would take place at your favorite museum, or that you want all your family to gather for a reception at the country club. If you're set on a particular location, use it to inspire the rest of your wedding day details. Some locations to consider:
Ballroom/hotel
Country club
Your home
Restaurant
Garden
Beach
Mountaintop
Loft
Yacht club
Art gallery
Flower shop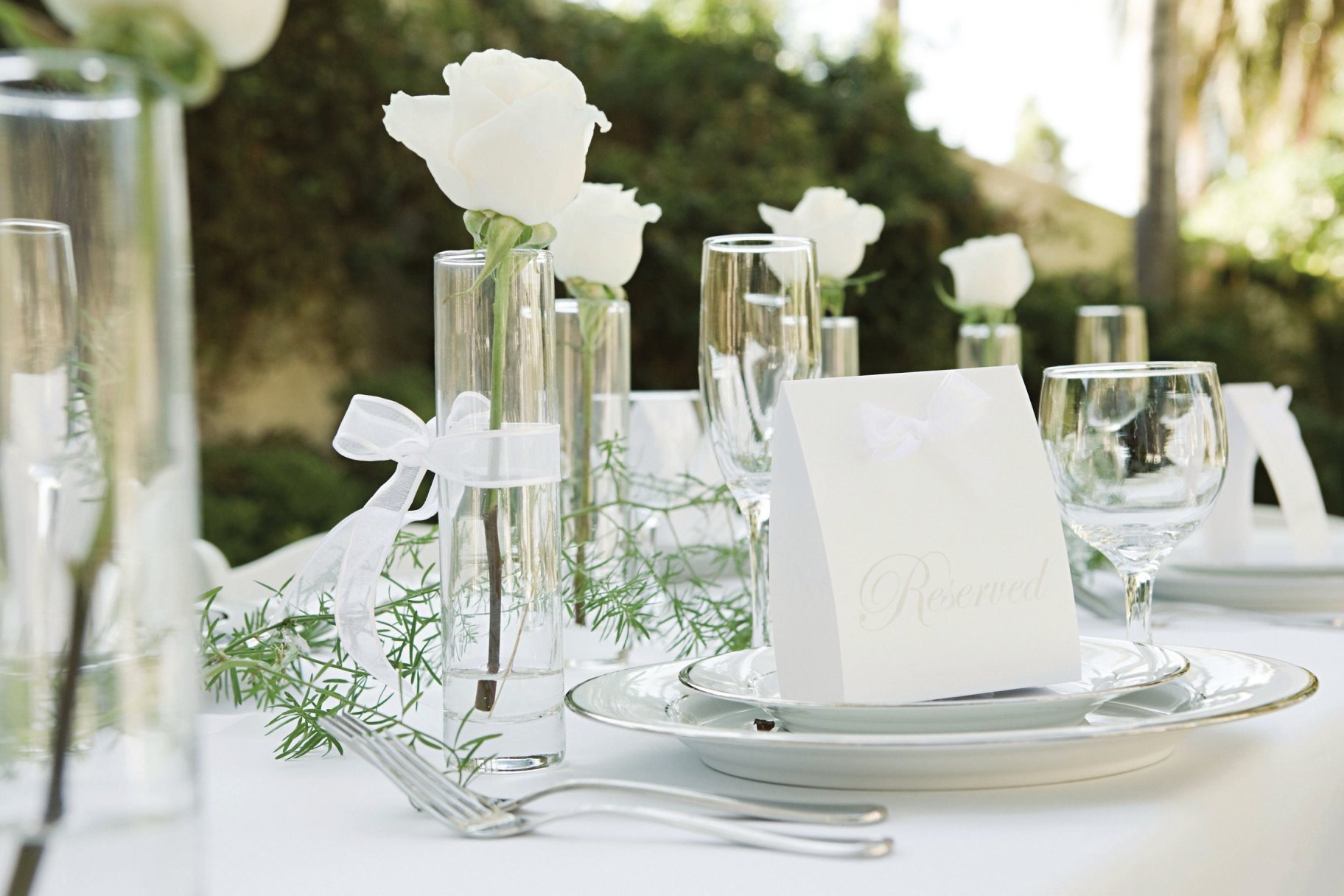 How formal will our wedding be?
Decide whether you're after a formal affair or a casual wedding, or something in between. And consider dress code here: Will your guests wear tuxes and floor-length dresses? Or will it be more laid-back?
Formal/black-tie (an evening wedding — tuxes or jackets for the guys and floor-length dresses for the ladies)
Semiformal (a late-afternoon or evening wedding — ties but no jackets for the guys; cocktail attire for the ladies)
Casual/laid-back (an anytime affair — ties-optional for the guys, and sandals and laid-back dresses and skirts for the ladies)
What colors do we want to use?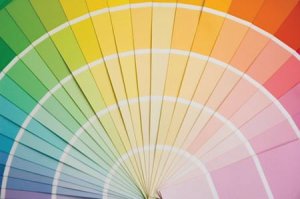 If you have a favorite color, by all means use it on your wedding day to reflect your personalities. Carry your colors through from the invitations to the flowers, bridesmaid dresses, and reception décor for a unified look. If you're in need of a little color direction, choose one main color and an accent color, or two equally prominent complementary colors. Some hot color combos:
Orange and pink
Green and blue
Black and white
Yellow and cream
Purple and brown
Turquoise and red
What's our style?
From a traditional country club wedding to a modern loft affair, there are many ways to define your wedding day. Your reception site, colors, and the time of day will reflect your style. Some ideas include:
Traditional (at a country club, traditional gown and colors)
Modern (in a loft, sleek centerpieces, and a tall modern cake)
Intimate (at home, at a winery, or a restaurant)
Glamorous (totally over-the-top, from the centerpieces to a five-course menu)
Theme (use a favorite city or hobby to inspire all the wedding day details)
Cultural (a black-and-red banquet-style affair for a Chinese wedding)
Beach (a seaside affair with nautical elements and blues and greens)
Destination (in Italy or the Bahamas; a vacation for guests)
What's our budget?
You need to ask all contributing parties (bride's parents, groom's parents, yourselves), how much they are willing to put into the wedding fund. Your budget will dictate many of your wedding decisions.
What are our priorities?
Together, decide the three most important elements of the wedding day for each of you. That's where you could give a little more money and attention. And, it will help make divvying up responsibilities easier. If he is all about the music, let him scope out possible bands and DJs. If you want a couture gown, you might have to opt for a less expensive invitation.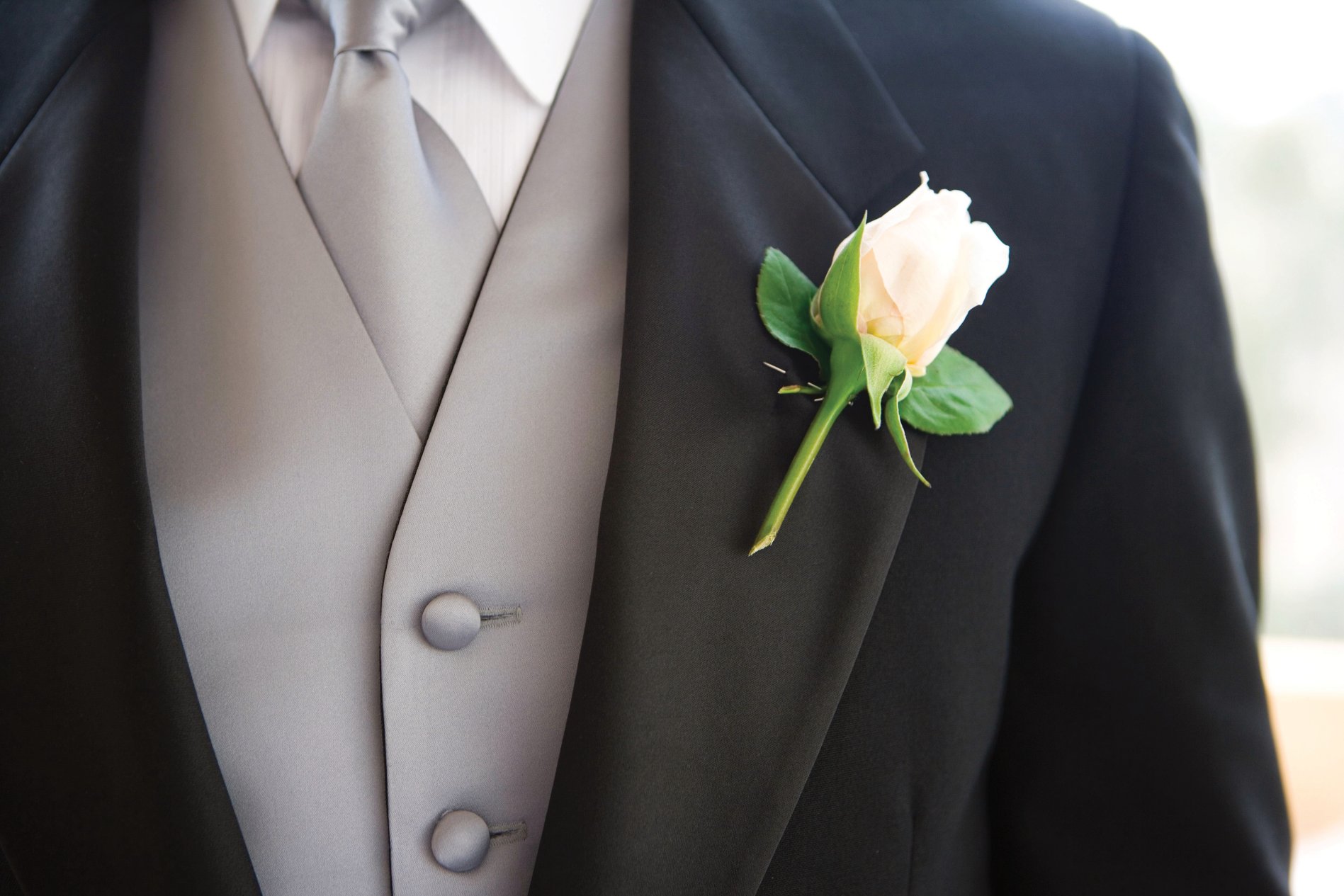 How involved will the groom be?
To avoid the I'm-doing-everything fight later, set expectations now for how the groom should be included.
Who's got the final say?
It's tricky when multiple parties are helping to cover the wedding costs, but the ultimate decisions should be yours. Subtly make this known early on, again, to avoid hurt feelings later.
© 2009 The Knot, Inc. All rights reserved.
More from The Knot
On March 8, 2011 Rain Wedding & Event Planning celebrated our first year in business. 
To our brides, please accept our heartfelt thanks and sincere appreciation for your patronage.  We have made many new friends and reestablished contact with many old friends in our first year.  The results of our first year in business far exceeded our goals and expectations for the first year. THANK YOU.  Without you our loyal and new clients, it would not have been possible.
~Meredith & Becky
To celebrate we are going to "Make it Rain"..... Rain great prizes for brides-to-be that is...
"Make it Rain" Contest:
Starting March 28th and running till  April 30, 2011.  
Bride's who want to enter for a chance to win some great wedding prizes. Simply.....click HERE to "Make it Rain"  
Four winners will be drawn at random and will be contacted via email on May 4, 2011.
The prizes will be given in the order that the names are drawn.
First two names pulled will win a Goodie Baskets filled with gift cards and prizes.  Both baskets are valued at over 300.00.  To make it even better!  We still have vendors donating...and we are letting vendors continue to donate. (Why not who does not love winning stuff you can use for your wedding!)
Prizes to include: (and we still have people asking to donate...so sure why not)
Gift Basket 1
            *This includes hair & makeup done by independent makeup artist Aimee Knop
Bridal Boot Camp courtesy of Fit Works
Free motorcycle oil change and safety inspection $90 value from United Cycle & Sled (for the guys, did not want the grooms to feel left out)
 Gift Card to
Ladies and Gentleman's Salon
$25 Gift certificate to
The  Pretty Pixie
$150 Gift certificate to
Hufford Photography
Gift Card for a custom banner by
Barbara A Ryan
Gift Basket 2
Arbonne Bridal Package and Spa Party valued at $250
Free motorcycle oil change and safety inspection $90 value from Untied Cycle & Sled (for the guys, did not want the grooms to feel left out)
Custom personalized wire wood bridal hanger  from
Aressa
Third name pulled will win a custom wedding or grooms cake donated by Sarah's Stylish Sweets
valued at $350.00
The last name drawn will win...
drum roll please.........
Our Sweet and Simple Package
 Our signature "Day Of" Coordination
For couples who want to be worry free the "Day Of" 
 And now the bad news.....
***If you are currently booked with a Wedding Planner; we are sorry but, you will not be able to enter into our contest.  Since our grand prize is our services, and the winners are drawn at random. We are sure you understand.  ***
 Once again thank you for a great first year and we look forward to helping you many years in the future.  Happy Planning!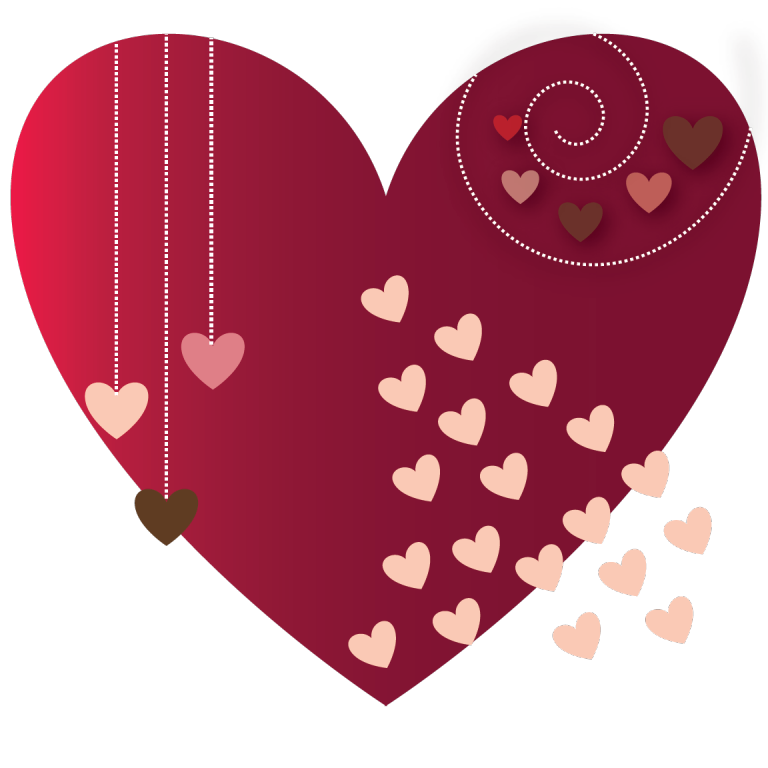 We put together some of our favorite quotes of love for all times. We hope you enjoy them as much as we do (and guys...feel free to use some of these on your women.....we know they will love them too, and love you even more for taking the time to think of them today)
Happy Valentine's Day everyone
From,
Meredith & Becky
What greater thing is there for two human souls than to feel that they are joined... to strengthen each other... to be at one with each other in silent unspeakable memories.
     ~ George Eliot
In the arithmetic of love, one plus one equals everything, and two minus one equals nothing.
     ~ Mignon McLaughlin
For one human being to love another that is perhaps the most difficult of our tasks; the ultimate, the last test and proof; the work for which all other work is but preparation.   

   ~ Rainer Maria Rilke
There is more hunger for love and appreciation in this world than for bread.      ~ Mother Teresa
Love cannot endure indifference. It needs to be wanted. Like a lamp, it needs to be fed out of the oil of another's heart, or its flame burns low.
     ~ Henry Ward Beecher
You will find as you look back upon your life that the moments when you have really lived, are the moments when you have done things in a spirit of love.
     ~ Henry Drummond
  Treasure the love you receive above all.
It will survive long after your good health has vanished.
     ~ Og Mandino
The person who tries to live alone will not succeed as a human being. His heart withers if it does not answer another heart. His mind shrinks away if he hears only the echoes of his own thoughts and finds no other inspiration.
     ~ Pearl S. Buck
 
  Love works in miracles every day: such as weakening the strong, and stretching the weak; making fools of the wise, and wise men of fools; favouring the passions, destroying reason, and in a word, turning everything topsy-turvy.   
 ~ Marguerite De Valois   

All love that has not friendship for its base, is like a mansion built upon the sand.    
 ~ Ella Wheeler Wilcox  

Love is the emblem of eternity: it confounds all notion of time: effaces all memory of a beginning, all fear of an end.    
~ Germaine De Stael   

Love is the history of a woman's life; it is an episode in man's.
   The loving are the daring.   

   ~ Bayard Taylor   

The best portion of a good man's life, His little, nameless, unremembered acts, Of kindness and of love.  

    ~ William Wordsworth  

Grow old along with me, the best is yet to be.     

~ Robert Browning  
Love is a thing, well, its kind of like quicksand:  The more you are in it, the deeper you sink.  And when it hits you, you've just got to fall.    
 ~ UB40  
Love is the expansion of two natures in such fashion that each include the other, each is enriched by the other.   
  ~ Felix Adler   
Think about it, there must be higher love Down in the heart or hidden in the stars above Without it, life is a wasted time Look inside your heart, I'll look inside mine.     
~ Steve Winwood
  Love is an electric blanket with somebody else in control of the switch.      ~ Cathy Carlyle
Love does not consist in gazing at each other but in looking together in the same direction.    

 ~ Antoine de Saint-Exupery
Romance has been elegantly defined as the offspring of fiction and love.      ~ Benjamin Disraeli
Find the person who will love you because of your differences and not in spite of them and you have found a lover for life.    

 ~ Leo Buscaglia
Nobody will ever win the battle of the sexes. There's too much fraternizing with the enemy.    

 ~ Henry Kissinger
To laugh often and love much... to appreciate beauty, to find the best in others, to give one's self... this is to have succeeded.   
   ~ Ralph Waldo Emerson
Kindness in words creates confidence. Kindness in thinking creates profoundness. Kindness in giving creates love.   
   ~ Lao Tzu
 
 Be careful, it's my heart.      ~ Anyone in Love
  The heart has reasons that reason does not understand.   
  ~ Jacques Benigne Bossuel
Love is the true means by which the world is enjoyed: our love to others, and others' love to us.   
  ~ Thomas Trahern
  Love is always bestowed as a gift -- freely, willingly, and without expectation.... We don't love to be loved; we love to love.     
~ Leo Buscaglia  
  It is best to love wisely, no doubt; but to love foolishly is better than not to be able to love at all.   
  ~ William Thackeray
  Love is a mutual self-giving which ends in self-recovery.   
   ~ Fulton J. Sheen
We find rest in those we love, and we provide a resting place in ourselves for those who love us.   
   ~ Saint Bernard of Clairvaux
Love grows by giving. The love we give away is the only love we keep. The only way to retain love is to give it away.   
  ~ Elbert Hubbard
The dedicated life is the life worth living. You must give with your whole heart.   
  ~ Anne Dillard
Love is the master key that opens the gates of happiness.   
  ~ Oliver Wendell Holmes
You come to love not by finding the perfect person, but by seeing an imperfect person perfectly.     
~ Sam Keen
What the heart has once owned and had, it shall never lose.   
   ~ Henry Ward Beecher
Love doesn't make the world go 'round. Love is what makes the ride worthwhile.  
    ~ Franklin P. Jones
A few color combos we love for  2011 weddings
Diamond Blue and Coral
Purple, Teal Blue, Emerald Green, and Gold
Peapod Green, Blue, and Mocha Brown
Apple Red and Black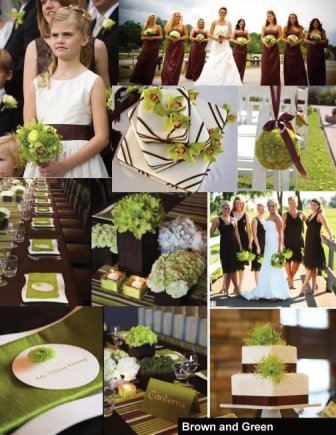 Hot Pink and Black
Hot Pink and Navy
Gold, Mauve, and Blush Pink
Lavender and Sky Blue
Red and Blush Pink
Sky Blue, Light Coral Orange, and Light Yellow
Warm Gray and any Pink or Coral or Blue or Purple
Rustic Brown and Pink
Your wedding + Your favorite colors = Creating a truly unique and elegant wedding theme and color scheme is easy.
Following are some ideas for color schemes for you: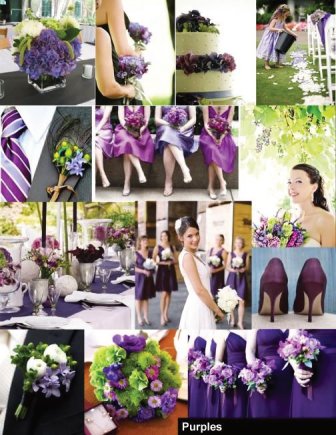 If you like purples try ~ Lilac, Lavender, Periwinkle, Purple, add Sky Blue as an accent.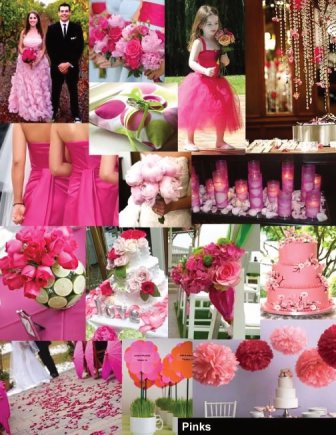 If you love bright pink try ~ Hot pink, Fuchsia, Light pink, Red, add Lime or Tangerine as your accent color!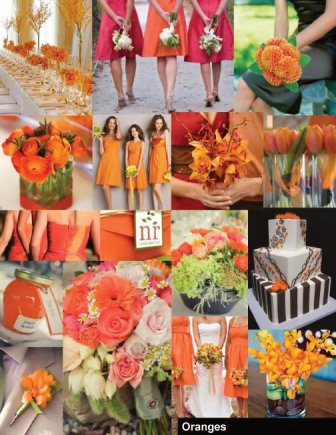 If you adore warm oranges try ~ Tangerine, Coral, Red, add soft Violet, Sky Blue or Fuchsia as your accent color.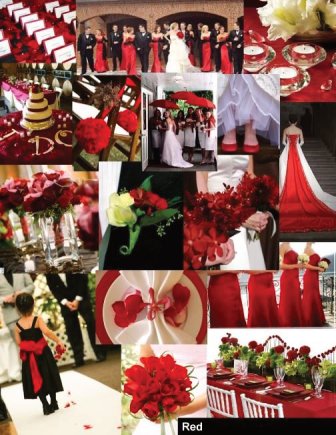 If you like burgundy or reds try ~ Dark Green, Golds, Champagne, Creams, add any of these as your accent.
If you love blues try ~ Deep Ocean Blue, Navy Blue, Sky Blue, Periwinkle, add Tangerine, Silver or Sandy Brown as your accent.
Season color trends:
Fall colors ~ Burgundy, Dark Green, Navy Blue, Silver, Gold, Creams, Burnt Orange, Taupe, Brown and Plum.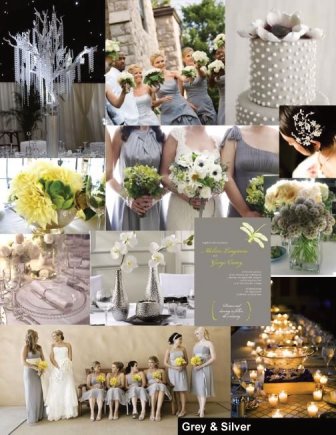 Winter colors ~ Red, Silver, White, Cream, Burgundy, Sky Blue, Navy Blue, Purple, Plum and Gold.
Spring colors ~ Pink, Tangerine, Lilac, Periwinkle, Hot Pink, Fuchsia, Lime, Yellow, Cream, Soft Violet and White.
Summer colors ~ Red, Yellow, Orange, Coral, Fuchsia, Blue, Sky Blue, Green, Lime, Lilac, Lavendar.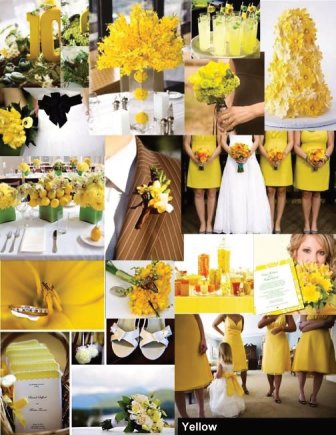 Go with your heart. Match all pieces of your wedding stationery, favors, guest book, napkins, table clothes, etc. This will make your special day visually appealing and reflect your personal creativity. It's your special day! Enjoy!
You're getting married and your ultimate goal is to make your wedding day 100% perfect. The last thing you want is for your friends and family to have a terrible time and spend the next 50 years whispering about the things that should have been done differently.   Most people have attended at least one wedding that was really bad. By knowing the common complaints, you can ensure that your wedding is a beautiful experience for you and your guests.
 1. Not Knowing Where to Go  One of the most common complaints of wedding guests is being unsure of where to go or what to do. This is usually accompanied by awkward moments of looking right and left, hoping that someone will step in and direct them to the correct area. To avoid this problem, enlist help by designating someone as the "point person."   Have your point person greet guests and let them know where to go or what's happening next. This way, your guests will not be left wondering where they should sit and what they should do.
 2. Left without a Ride  For guests in the wedding, a common complaint is being left without a ride. Many brides and grooms arrange transportation from the hotel to the wedding, but they neglect to provide transportation from the reception back to the hotel. If you can arrange transportation, do so. If not, make sure that there is a way for your wedding guests to call a cab, catch a bus or find some other way to leave the reception.   If necessary, print up cards with phone numbers or other important information. You certainly don't want to leave your guests wondering how in the world they will make it back to the hotel or home.  

3. The Speech That Never Ends  Speeches can be charming, witty, funny and enjoyable for the wedding guests to hear, but they can also be way too long, boring and conducive to fits of dozing. Make sure that your speech conveys the emotions you're feeling, but keep it as short and sweet as possible. A good speech should only last a few minutes and should be refreshing for guests to hear.   Gently pass this information to all those giving speeches at your wedding. While you may appreciate the Maid of Honor's 15-minute trip down memory lane, your guests probably won't.  

4. A Table of Strangers  Most wedding planners, brides-to-be or maids of honor decide which guests should sit at which tables. This part of the planning is very important because guests will feel uncomfortable at a table with people they don't know. Imagine sitting at a table where everyone knows everyone else – except for you. Or worse, imagine if no one knows anyone else at their table!   Make sure to plan the seats wisely so that everyone can converse and have a great time at the reception. You should make sure that everyone will know at least one other person at their table well enough to feel comfortable chatting with him or her. This will keep your guests happy and will be one more step toward the perfect wedding!  

5. Time Between the Wedding and Reception  While the bride and groom are extremely busy trying to get their things together, their affairs in order and everything else, they probably aren't thinking too much about the time between the wedding and the reception. The guests, however, will have to find a way to kill that time, and if it's a long time, they may be stuck twiddling their thumbs.   An hour or two is about the perfect amount of time between the wedding and reception. If you must, have a few helpers who can help you get everything together so that you can be on your way sooner. If you're unable to hold the events within an hour or two of each other, try to make other accommodations for your guests.   Can your reception hall or location be opened for waiting guests? Can you have a light snack prepared for those guests who will be waiting? By making sure that your guests are occupied, entertained and taken care of, you will be ensuring that they have a great time at your wedding!   While it's really difficult to make sure that every single detail is perfect, you can take care of the most common wedding guest complaints. If the major things are under control, things will flow much more easily on your wedding day, and it will be remembered for its beauty and joy rather than for the things that went wrong!
This post has been removed.

We would like to thank those who have talked to us in regards to this post.

We here at Rain Wedding Planning would like to extend heartfelt wishes to all our current and prospective clients. To the couples  we have worked with; it has been an honor to be a part of your lives, the friendships that were formed are very special to us.  To our prospective clients that we have been meeting with, we look forward to helping you make your wedding day and the days leading up to it truly special for you.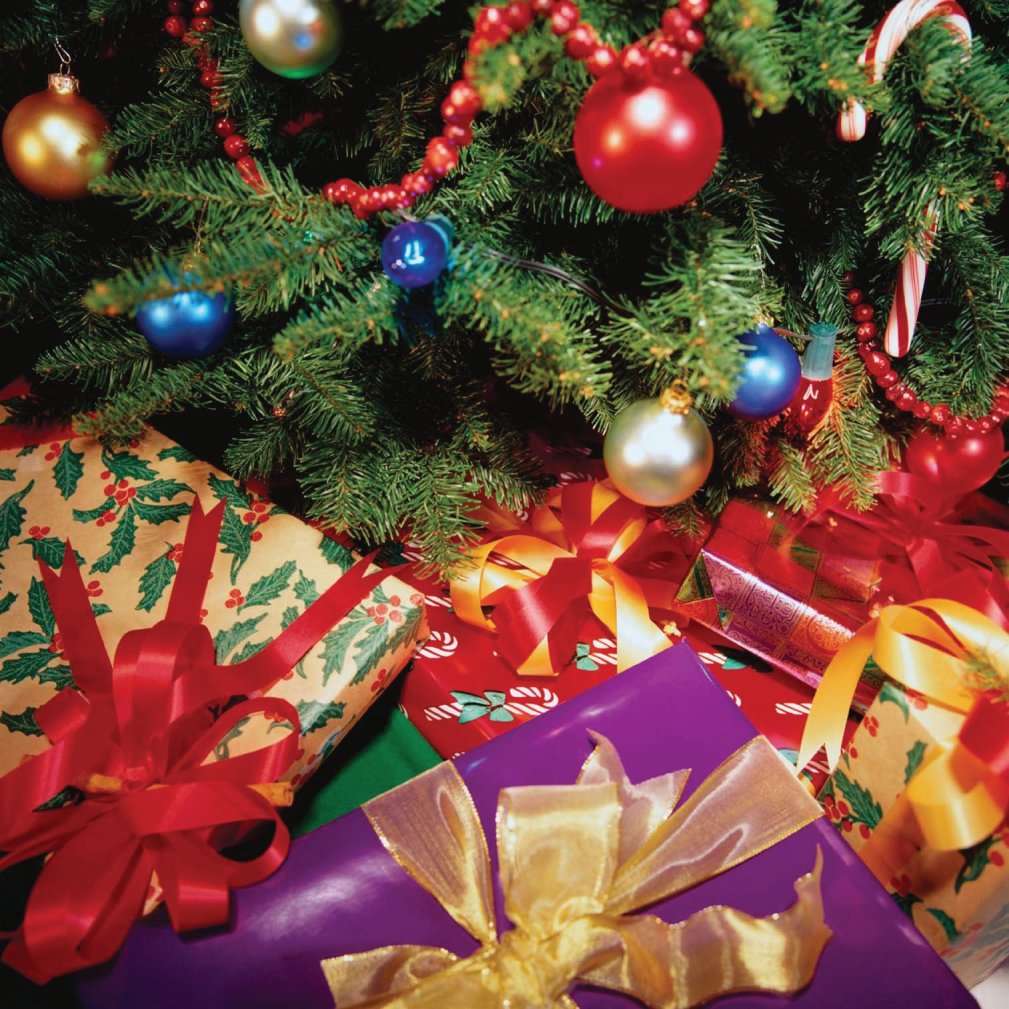 Last but not least.....to all wonderful vendors we have gotten to work with and meet this past year. Thank you for your love and support as we grow this new company. The welcome into the Ohio Wedding Community has been so warm, and more then we could have ever imagined. We feel so blessed to be apart of something so wonderful.
Happy Holidays from Meredith & Becky
Wishing you the very best in 2011
Grand Opening at The Invitation Studio this weekend!
Friday, November 5th 12pm-6pm & Saturday, November 6th 12pm-4pm.
The Invitation Studio at La Place - Upper Level
2101 Richmond Road, Beachwood, Ohio.
Invitations Studios offers custom announcements for all occasions from weddings, engagements, showers and anniversaries. Let Invitation Studios help you find the perfect invitation or announcement for your event.

 Cootie Catchers and Fortunehearts
We are  always looking for new ideas to help my clients make their weddings super special! I think that brides & grooms are always looking for ways their friends and family will remember their wedding as "the best ever."
  Here is a way that can help personalize your cocktail hour or wedding reception and keep your guest interactive with one another. (We fell in love with this idea because as little girls we would play this for hours at school, trying to see who we would marry LOL)
A Cootie Catcher!
Fortune Hearts
has a great affordable and personalizeable (maybe that's not a word but it definately works) Cootie Catcher for all occasions- Super Fun, huh!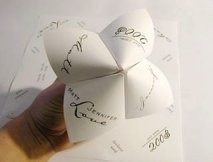 Some other items Caroline has on her site that we love are the fortunehearts.
Hold a fortuneheart in the palm of your hand. You will see the shape of a heart. Inside, you will find a message about life, love or friendship…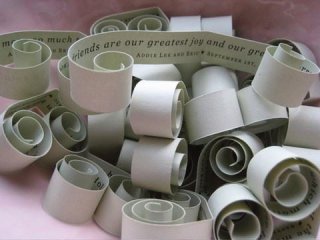 0

/