Shopping Cart
Your Cart is Empty
There was an error with PayPal
Click here to try again
Thank you for your business!
You should be receiving an order confirmation from Paypal shortly.
Exit Shopping Cart
Have you thought about your guest with children? Or, do you as a couple have children of your own? What to do with the kids???
This past weekend we got the honor of meeting up with Trish Davis owner of Elegant Event Sitters, Inc. while she was in town working for Army National Guard.
When we arrived at the Hilton in Beachwood we were not sure what to expect. We were shown the way to the "child care area" were the tables were all set with different toys and games for the kids to play with, the children were with their parents for the lunch break.  As we met with Tish, her staff was busy cleaning the room and getting ready for the second half of the afternoon.  For this event, Tish and her staff were caring for 60+ children, some of them just a couple of months old (as mom's we were swooning over the little ones) We were so impressed with the standards upon Trish holds when it comes to hiring her staff, and her expectations of them. When the children were coming back from their lunch break with their parents each of them came up to the care givers giving them hugs and telling them how much they missed them. As parents ourselves child care is very important to us!  

Elegant Event Sitters, Inc.
has been offering babysitting solutions for special occasions since 2002. The concept of their business is simple they allow the kids to be kids. They offer the adults at your event a chance to enjoy themselves "kid-free". Parents are able to have an enjoyable time knowing that their children are close by in a safe and secure environment. They offer care for weddings, parties, reunions, funerals, conventions, corporate functions, sporting events, retail establishments and so much more! 
The best thing about our service is that they come to you! You provide the location and leave the rest to them. While the adults are dancing the night away, the children will be entertained with age appropriate games, face painting, crafts, toys, story time and activities. The party space is decorated in our basic wedding theme. For an additional fee upgrade to a themed party or a professional entertainer that will delight the children with magic tricks and balloon animals. They can customize the services to meet the needs of your young guests.
 All staff members are First Aid/CPR certified and understand that safety is their number one priority!
Services are available in Ohio, Alabama, Georgia, Florida, North Carolina, South Carolina and Tennessee!
A sample of some of the services they offer are:
Hotel and Resort Child Care
Out-of-town guests often need a sitter to watch the kids for a few hours for a night on the town or maybe just an extra pair of eyes to watch the kids at the pool.  They work with several of the major hotels in the area. Want to take the kids to the beach or pool? Sitters that are certified lifeguards are available for an additional fee. 
Wedding Nannies
There are times when the presence of the children is welcomed but supervision is still required. Hiring a Wedding Nanny is the perfect way to allow the children to be a part of the ceremony and reception while giving the parents the freedom that they need to mingle, dance and have dinner with the other adults. 
Mitvah Monitoring
Are you in need of supervision for your child's bar/bat mitzvah?  Their professional staff ensures that the kids are in the appropriate places during your event. Staff is also available to provide supervision on the bus while traveling from one venue to another. At the end of the night, the chaperones make sure that the children are released to their parents and depart safely. 
To find out more information about Elegant Event Sitters, Inc.
Contact Trish Davis at 888-262-2838
www.eleganteventsitters.com
This past week Rain met Donna Berns.  She is the chef at Chenoweth Country Club and Banquet Center located at 3087 Chenoweth Rd., Akron, Oh 44312. She also handles their banquet sales.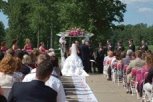 Donna wrote about decisions that come with choosing the right reception hall for your wedding. She hits on all the key points for our couples to consider when they are scouting out the perfect location for their dream day...
Now that the biggest decision has been made, saying "YES". There come a lot of tough decisions. Choosing where to have the ceremony, reception, who to have as bridesmaids and what they should wear, of course your wedding gown, cake, flowers how the list of things to do goes on and on.
There are helpful recourses out there to use as a guide. Remember this is your day, so they are just a guide to help you. One of the most important is setting the date and coordinating that with your ceremony site and reception site. This is something that you may need to be flexible with if you are planning a wedding less than a year out. Most churches and halls are booking more than a year in advance.
When choosing a reception site the first thing you need to think about is the date, are they available? What type of service, sit down or buffet? You should first and foremost feel comfortable with any vendor you deal with. They should be willing to offer advice and be flexible to your needs. Look for a vendor that is willing to go the extra steps it takes to make this day yours!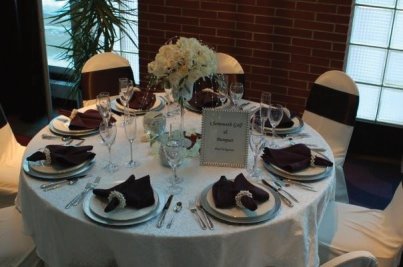 Here are some questions you should ask:
What are your menu choices and what is the cost per person?
Is there a separate cost for beverage service and what is that cost?
How long does the bar run?
How long do we have the hall?
Do you provide linen service and is there an additional fee for this?
Do you provide center pieces and is there a fee for this?
Do you have a cake cutting fee?
Do you have a service fee and how much is it?
How many guests can you accommodate?
What is your staff to guest ratio?
Do you have references?
Is there an additional fee for the hall or room rental fee?
 Are there a minimum number of guests required to have a Saturday reception?
What are the payment terms?
What are your cancellation policies?
What do I need to do to reserve my date?
Are there fees for security?
What if I or my guests have certain dietary needs?
Are there any additional fees to be aware of?
You should ask for a tasting. No matter how beautiful a facility is, if the food is mediocre or less all that beauty will fade away and you and your guests will not be satisfied. Look for a facility that will cater to you and your needs to make YOUR DAY one to remember.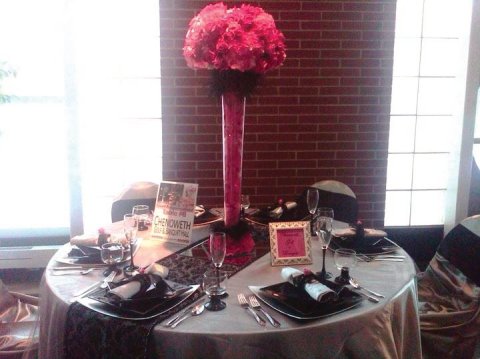 Donna Berns
Chef / Banquet sales
Cell-330 603-3872
office 330 644-0058
chenowethgolf.com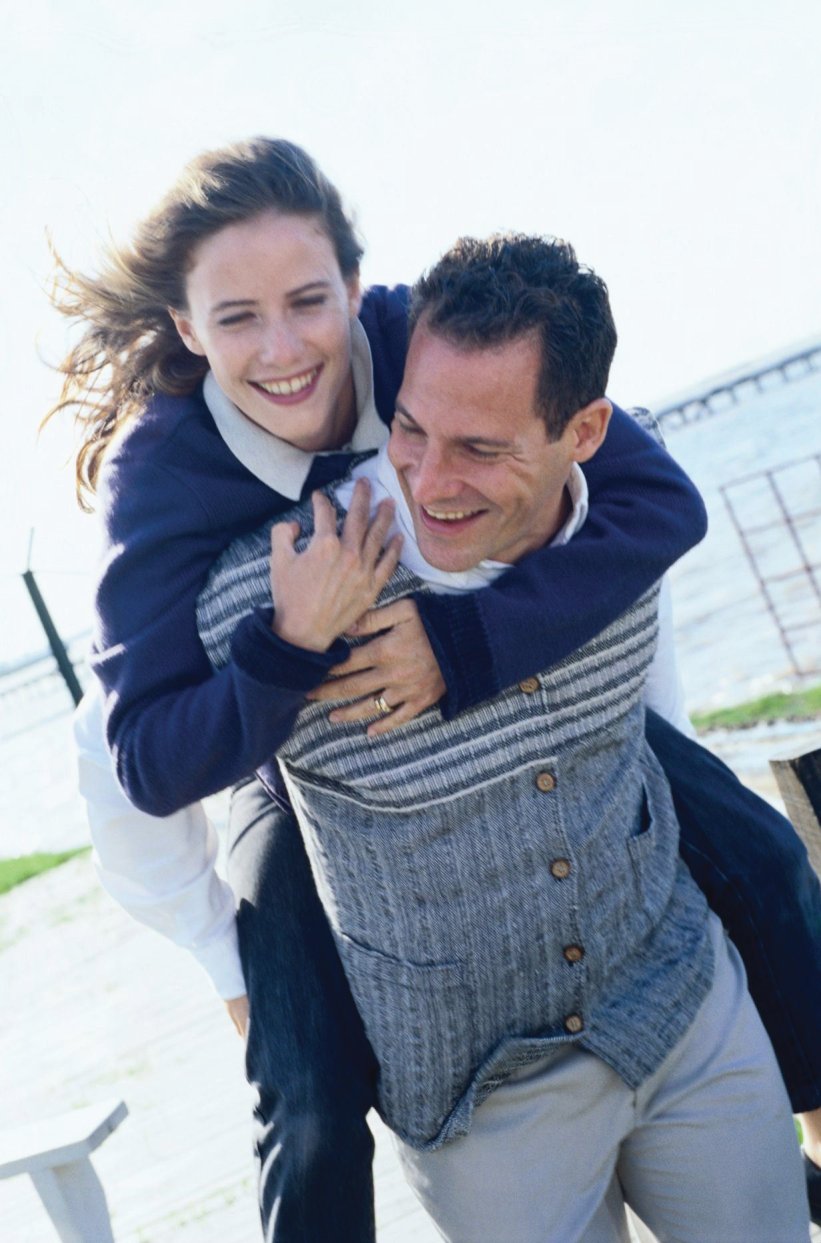 The topic that is hard to talk about...
Marriage and Pre-Marital Counseling.
It is important to remember that the word "counseling" can sometimes be misleading. Premarital counseling is not a form of therapy. Premarital counseling is educational and will help couples learn the skills they will need to support them in having a happy,
healthy
and lasting marriage.
Premarital counseling will help a couple to identify and communicate about their fears, desires, beliefs, values, dreams, needs, and other issues and baggage that was previously avoided or denied, never discussed before.
Today, 50 to 67 percent of marriages end in divorce.  About 20 percent occur in the first five years of marriage.
Research has shown that premarital counseling helps to decrease the incidence of divorce by as much as 30 percent.
When Should a Couple Seek Pre-Marital Counseling?
The basis for the following criteria has been suggested by   Marriage Family Therapists:
When you are young and have never been married
When one partner is "commitment-phobic"
When a couple cannot resolve significant issues (if a couple has disagreements regarding money, parenting, household responsibility, work, sex, etc. the time to resolve them is before marriage)
When one or both partners have a previously failed marriage and want to avoid repeating the same mistakes
Additional reasons to enter pre-marital counseling may include
Difficulty handling conflict: No marriage tool box is complete (nor can any marriage survive) without strong conflict resolution skills.
History of childhood abuse or domestic violence: Abuse, unfortunately, has been correlated with higher rates of divorce. It is important to seek help from a trained professional to learn alternatives to patterns that have resulted from emotional or physical abuse, or to heal from the hindrances of sexual abuse before marriage.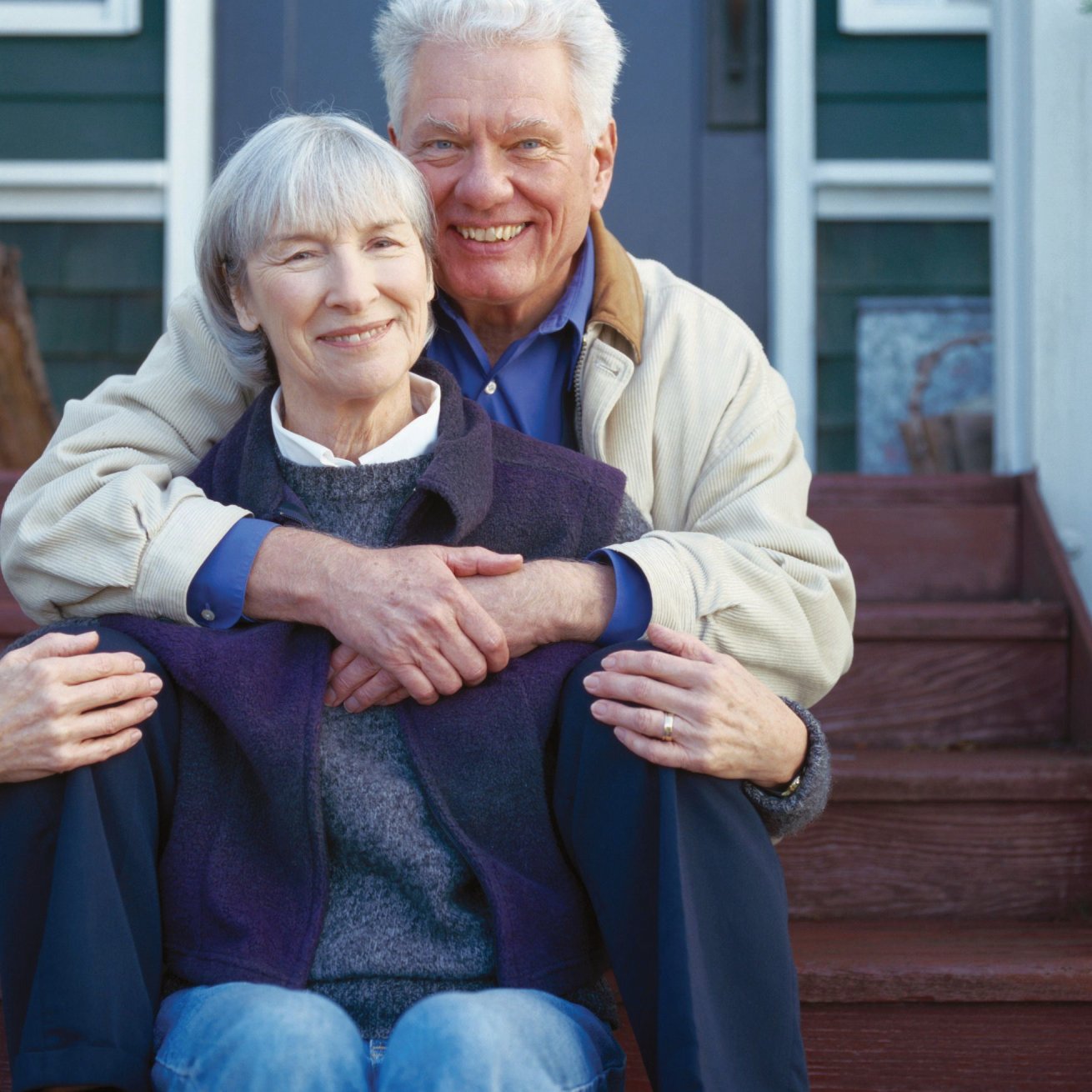 Other Considerations in Preparing for Marriage
Marriage, and family, can be among life's greatest assets. If we strive to protect assets that mean less to us than our loved ones, why not explore the issues ahead of time to "damage-proof" the precious gift of marriage?
Many couples stay unhappily married and feel hopeless about the future.  As the couple grows apart, their marriage unravels, and they experience anger, boredom, fear, grief and loss, embarrassment, hopelessness, loneliness, pessimism, resentment, and worry.
But there is a solution.  Your marriage can be saved. 
If you are just starting your new married life together- congratulations!.  Now is the perfect time to learn the essential building blocks of a successful marriage. 
Marriage counseling
can help you avoid potential problems and save you much heartache in the future.
You deserve a loving marriage that will last a lifetime.
The Marriage Clinic i c
3659 S. Green Road, Suite 100
 Cleveland, OH 44122
(216)-292-4500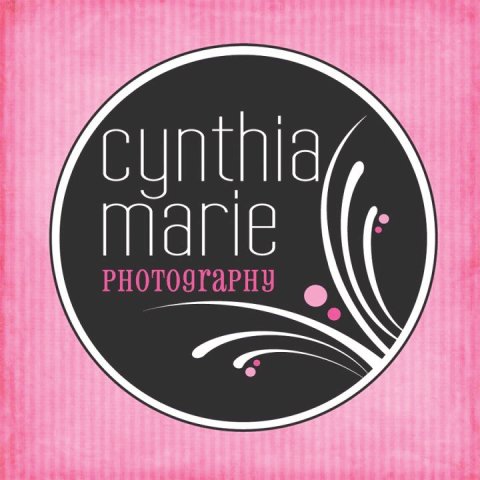 December Vendor Spotlight
Cynthia Marie Photography
Phone: 216-536-7793
Cynthia Marie Photography offers a relaxing experience while we capture your life's most wonderful moments. Your comfort is of utmost importance to us, which is why we offer on location photography. We don't ask for you to come to a studio to say "cheese." We simply ask for your preference of location - a park, a quaint downtown area, a tranquil location you may have in mind or even your own home.
Your photographs will never be rushed as we prefer to capture your life's natual moments without telling you to "smile this way" or "to pose that way." Most of the time, the best photographs are the ones when natural expressions and emotions are captured. These are the photographs that will bring you back to that exact time and place whenever you look at them. There are the moments we want to capture for you.
We want you to enjoy this moment!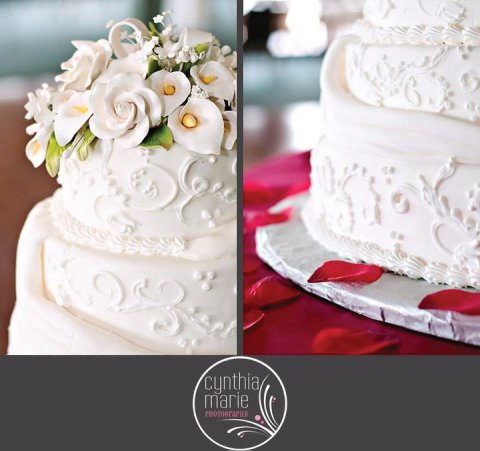 What is the biggest misconception about your industry?
With technology what it is today, a DSLR camera is very easy to come by and many people own them today.  A lot of people think that if you own an expensive camera you can take pictures like a pro.  A lot more going into being a photographer than just pressing the shutter button.  I don't let the camera take the pictures for me, I tell it what to do.   It make a big difference in the percentage of shots that turn out and how creative you can be with your photographs.
What are a few mistakes brides make when choosing a photographer?
One big thing is price.  It kind of goes along with the last question.  Just because someone owns a camera doesn't mean they can shoot a wedding well.  If you pay someone $500 to cover your wedding day, you may not be very happy with the results.  There are a lot of really inexpensive photographers out there now, you should really spend time talking with photographers and looking at there work.  You don't just want to hire the most inexpensive person you find.  That being said, everyone has to start somewhere and when you are starting, you may be more inexpensive than well seasoned veterans. If you do your homework and research your photographer you should be very happy with the outcome.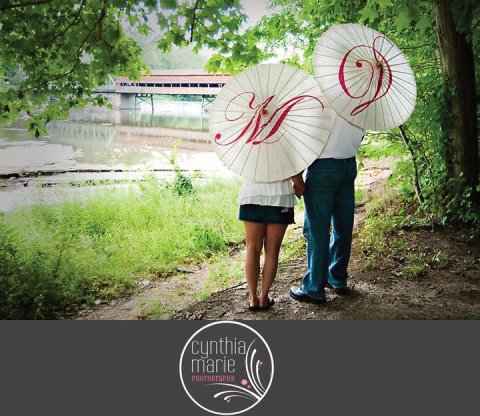 What things should a bride look for when hiring a photographer?
A couple of things.  There are different styles of photography.  So you want to make sure that what you expect from your pictures on your day is something that coincides with the way your photographer shoots.  You should also be comfortable with your photographer.  I love meeting potential clients over a cup of coffee and going over their wedding day details.  I like asking them more about how they met and just taking the chance to get to know them a little bit more.   Based on our first meeting a couple can either mesh with the photographer or they can leave not feeling totally comfortable with them.  If you aren't comfortable with them, even if their pictures are amazing, you may want to keep looking.  Being comfortable with your photographer is important.  This is another reason I give an engagement session to all my brides and grooms to be.  It's a great chance for us to spend more time together with them in front of the camera.  Some people are uncomfortable in front of the camera and doing this eases that feeling on the wedding day.
What is the worst story you have heard about a mistake someone in your industry has made?
Recently in the news, we heard of  local, well established photographer whose camera and memory cards were stolen from a wedding venue where they were shooting.  Not only were the days pictures on those cards, but a wedding from the night before.  Thankfully everything was returned, but I couldn't imagine being in their shoes or their brides and grooms had they not been.  I do carry my camera and cards on me all day and night when shooting.  I also always download and back up my cards after every event.  So I would never have an extra weddings worth of memory cards on me at another wedding.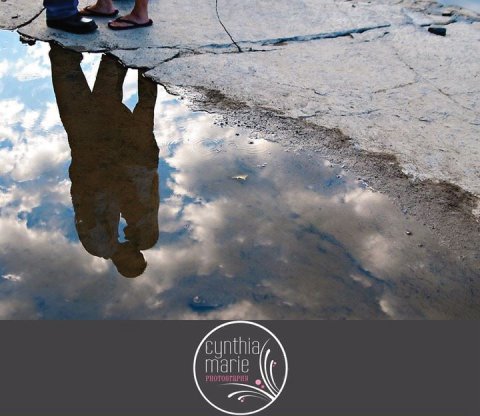 What is the one thing bridal clients should review in contracts with their photographer?
I think reviewing the entire contract with their photographer is very important.  All of it.  And make sure you understand everything that is stated in it.  If you have any questions or are hesitant about anything, make sure you ask about it.  It is all very important.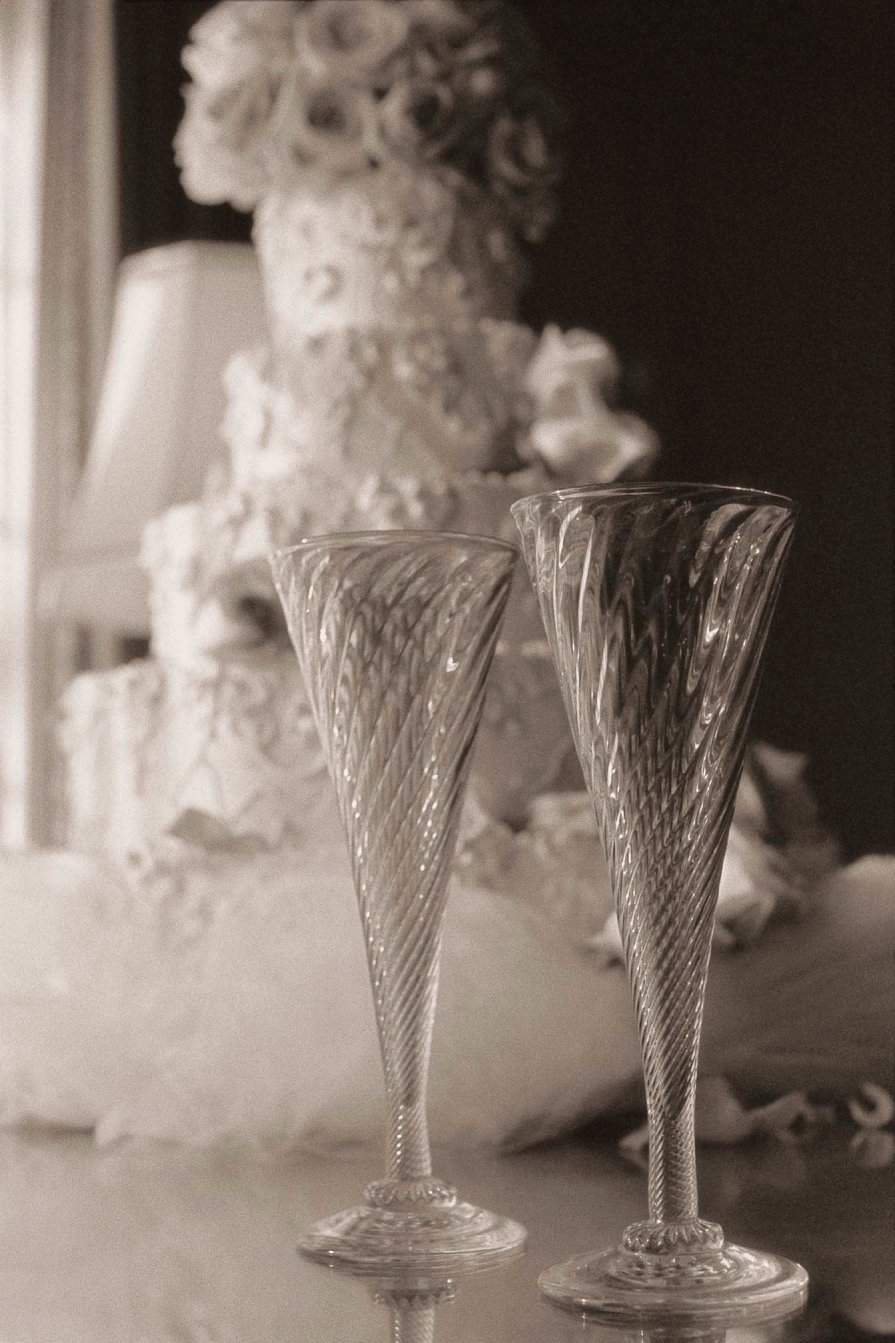 Here at Rain Wedding Planning we LOVE getting to know people, and hearing love stories.  We have been interviewing local wedding professionals the past couple of months so that you can learn more about the amazing talent we have right here in North East Ohio!
We decided to interview ourselves so you too can know a bit more about us here at Rain.
Q: What is the biggest misconception about wedding planners?  
A: The first is that most people believe that wedding planners are expensive; but actually our rates are pretty reasonable, and in the long run wedding planners can save you money!  The second is that a wedding planner will come in and try to take over your special day.  That is not true at all we are there to make your Wedding Day as stress free as possible!  We are there to handle all those tiny details so that all you have to do is enjoy!  How nice would it be to just "be the bride" on your wedding day and not a "bridezilla"??? 
Q: What are a few mistakes brides make when choosing a wedding planner? A: Before booking a wedding planner definitely talk to the planner ask about past work make sure that they have a clear picture of what YOU want for your big day.  Remember it is all about you!
Q: What is one of the worst things that can happen when booking a wedding planner?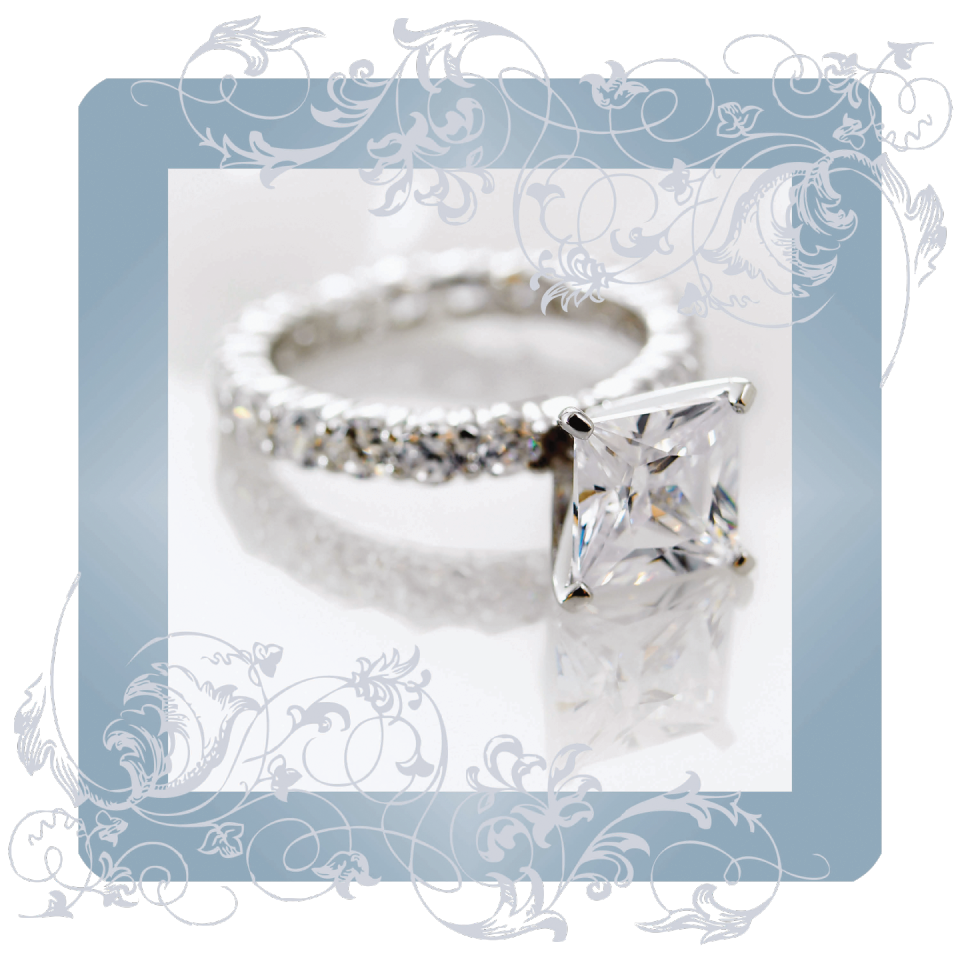 A: That the planner has a reputation for being difficult or that venues/vendors prefer not to work with them or that a planner double books, etc.  They just do not have the time to invest in your wedding.  Before you book, you should talk to your planner multiple times, if your planner can only talk to you between certain times....the likely hood of them not having the proper time to invest in your wedding. 
Q: What is the worst story you have heard about a mistake someone in your industry has made, anyone, ever?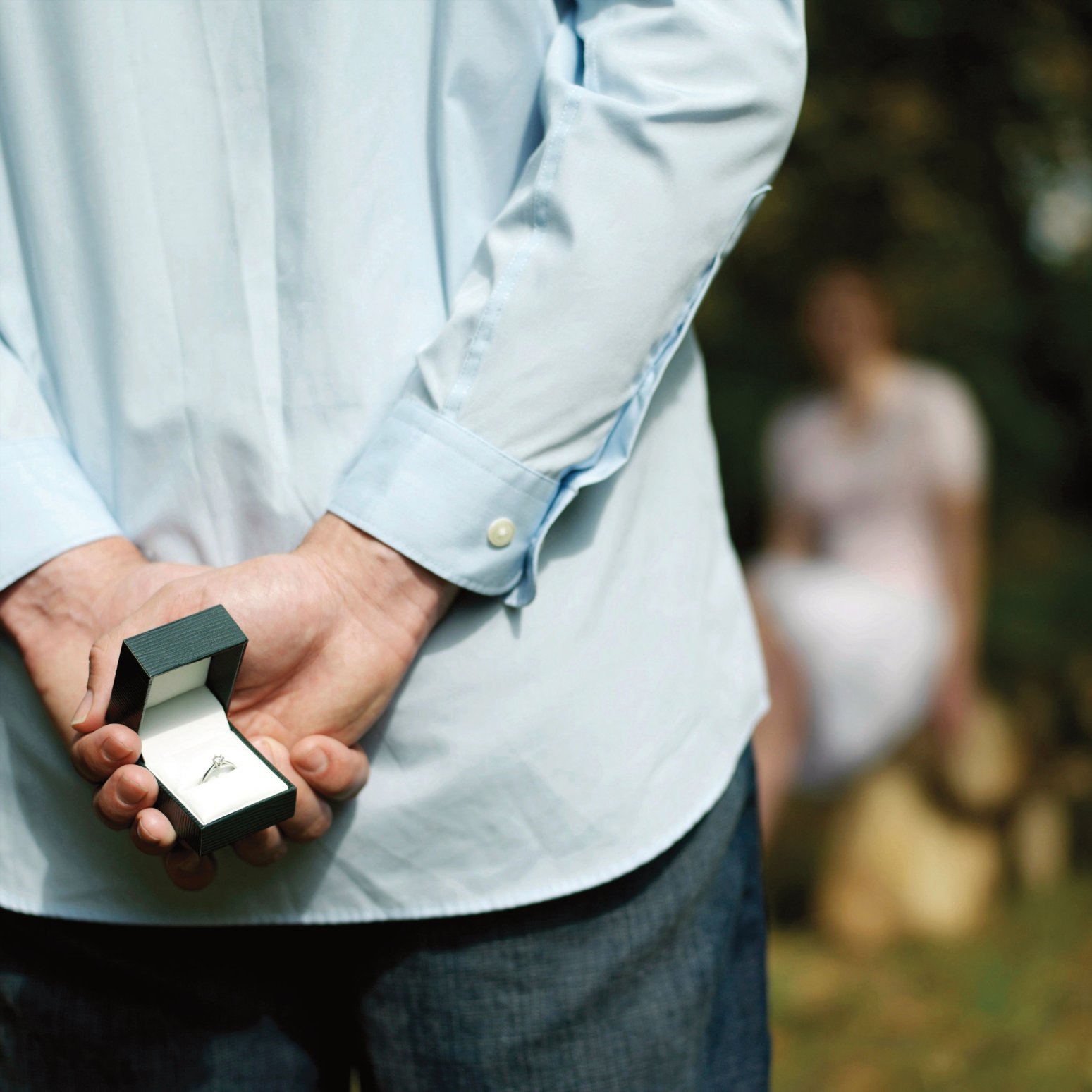 A:  We heard once of a local  planner who decided they were going to be in complete control of the whole event.  They argued with the manager at the venue, told all the vendors how to do their job, etc.  It ended up being a disorganized fiasco.  A professional wedding planner is there to support venues, vendors, and the bridal party, making your day the very best and stress free. 
Q: If a client had endless funds what unique idea/service or products would you offer them?
A: Oh there are so many ideas that come to mind obviously we would  recommend the platinum package which takes care of ALL of your wedding details but we could handle the planning of the shower, bachelorette party, and arranging travel plans for the honeymoon!  Wouldn't we all love to have an unlimited budget?  But in reality most everyone is on a tight budget, there are so many great ideas for brides. We have so many tips and tricks to make a wedding elegant without breaking the bank! 
Q: What is the one thing bridal clients should review in contracts with their wedding planner?A:  Definitely make sure to check how long the planner will be available to you, how much it will cost if you go over the contracted time, will they be at the rehearsal or is that an additional fee.  
 Q: What is the one thing you wish all of your clients knew when working with you?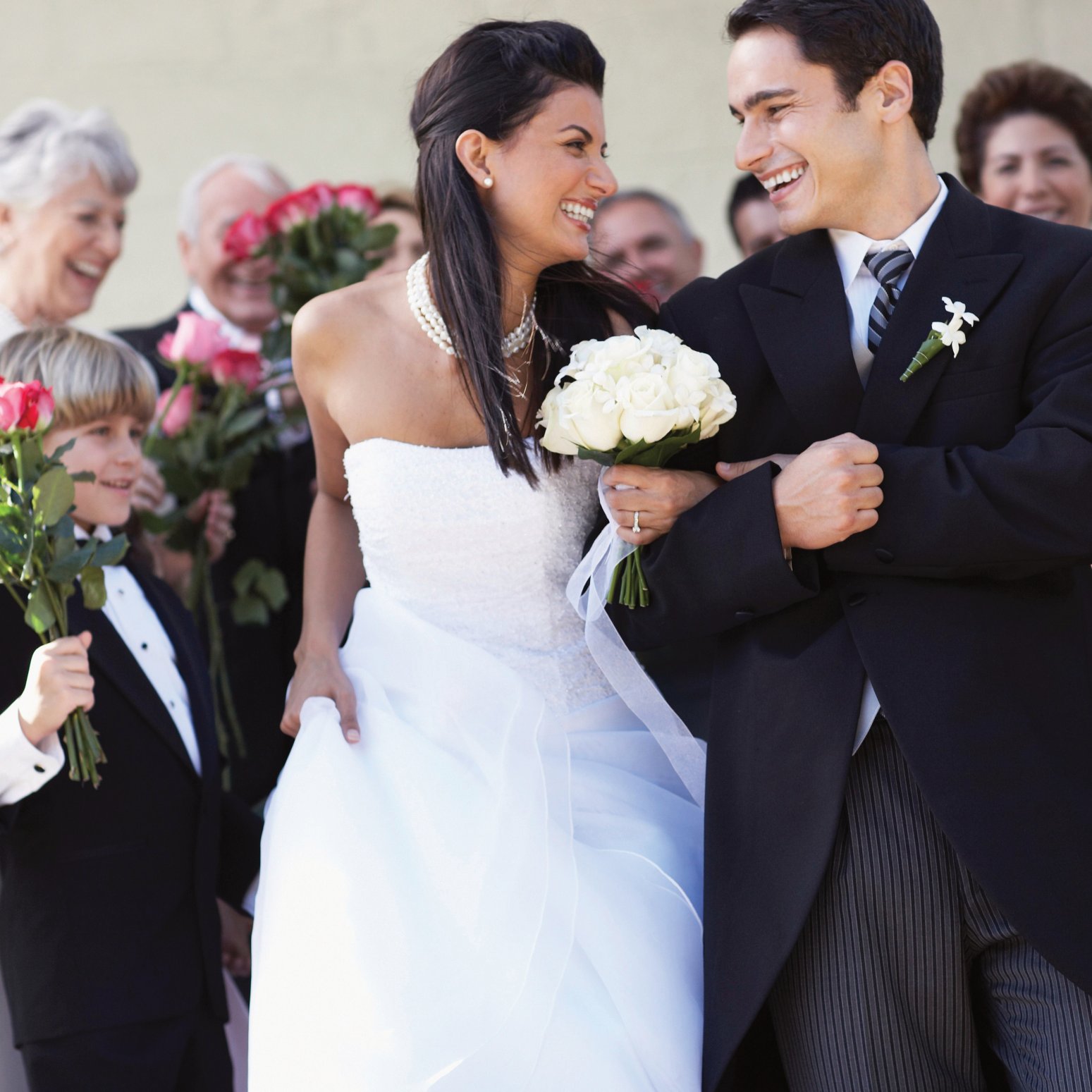 A: That we absolutely love what we do!  We  will do everything possible so that all they have to do is relax and have fun.  We are also there to assist the bridal party AND Parents. The greatest compliment we ever received was from a Bride who had such a tough planning process, at the end of her wedding day she was not even able to speak to us with out tearing up she was so over joyed with how her day turned out! Both of us are hopeless romantics at heart...
Vendor Spotlight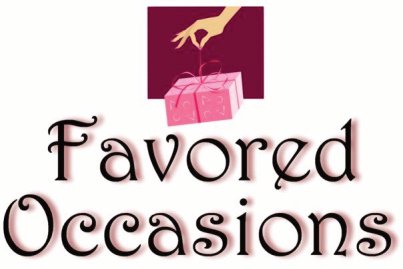 We first met Tomi Kazarovich at the Ohio launch of Wish Upon A Wedding.  She like us launched her company in 2010; it has been an honor getting to know her.   It is with great pleasure that we introduce you to Favored Occasions; they are  a reseller for Kate Aspen & Fashioncraft favors, Weddingstar wedding accessories, and also Carlson Craft & eInvite invitations.
Why I started my business:
I love being creative and enjoy seeing the pieces of a big picture come together.  I'm very detail-oriented and to me the "little things" mean a lot.  It's always exciting to help a bride by suggesting favors and accessories to compliment her upcoming wedding. Knowing that my passion is contributing to making someone's day a bit more special is very rewarding to me.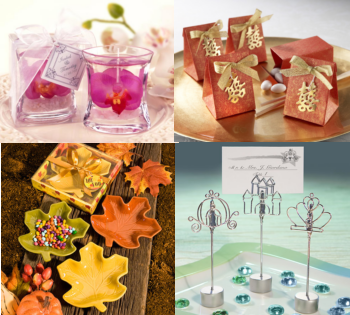 My take on favors:
A very important point I'd like to mention is that favors are still a key piece when planning. They're not only meant to be a keepsake from the celebration, they'realso a token of appreciation to those who shared your special day. Today there are so many options for wedding favors. Not only can they can match the color of a wedding, they can also be used to help pull together or even inspire a theme, such as floral, Asian, romantic, or fairytale, just to name a few.
DIY and Pre-packaged options:
For those with a creative flair, I have everything for the DIY bride-to-be including bags, boxes, tins, ribbons, and labels – you name it.
For those looking to save time, but want something unique, I suggest favors that pre-packaged with a ribbon and tag. They can also be ordered with personalized tags and some even offer custom box color options.  All are very reasonably priced and most do not require minimum quantities. This is a wonderful alternative.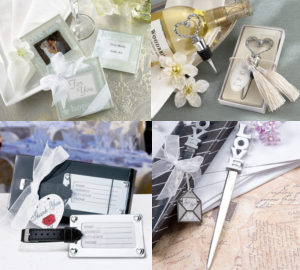 Some of my favorite favors:
I've always been partial to giving gifts that are what I like to call "practical." Something that's just not put away and forgotten, but is functional and provides a reminder of the original reason it was given. Some of my favorite favors include: bottle stoppers, photo coasters, luggage tags, and letter openers.
Other items I also suggest include favor box labels, table numbers, place cards, and wine bottle labels.  They can be personalized and are offered in a wide variety colors and design options.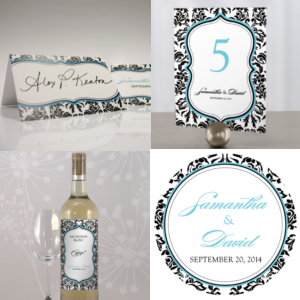 Absinthe Custom Print Design Studio's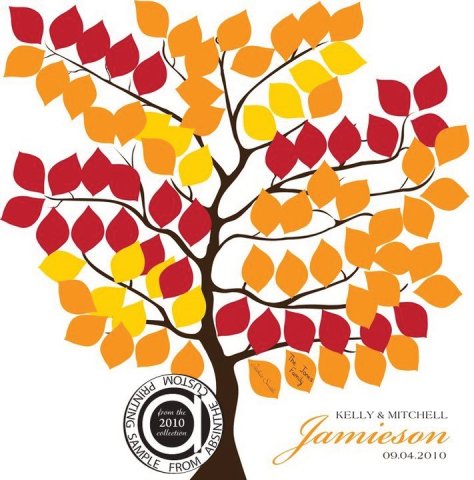 This vendor hold a special place in my heart. It is a pleasure to introduce Kim Slugocki owner and graphic designer of Absinthe Custom Print Design Studio's.
I met Kim a little over a year ago while planning my wedding. I came across Kim's shop on Esty. (Please keep in mind I do not suggest this for everyone, I got very lucky finding Kim. If you do choose a vendor from a site such as Esty or Ebay as  with any vendor you hire....RESEARCH, RESEARCH, RESEARCH before you send any money.) My first order from Kim was for her signature item; A Guest Book Tree. I was so impressed with the quality of her work, that I asked if she could come up with a draft for my invites. I gave her an idea, she was able to take the vision I had in my head and design it for me.  Kim has/is doing my program fans, table numbers, invitation inserts, tags, all my signs, and much more. (Click on the photo of Kim's Guest Book Tree for a link to her Esty Shop)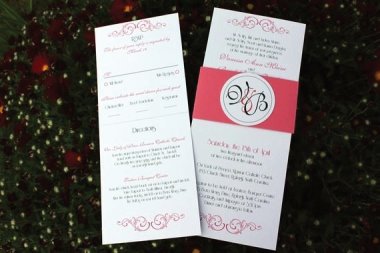 Kim has  been designing wedding stationery and coordinating pieces for almost 10 years. Everything from the very basic, to the ultra extravagant! If you have an idea, she can make it come to life and help you create a look to your event that people will remember for years to come.
If you're looking for something that you don't see - coordinating pieces, or something specific in a design - just ask! She  may have it... she don't list everything all the time.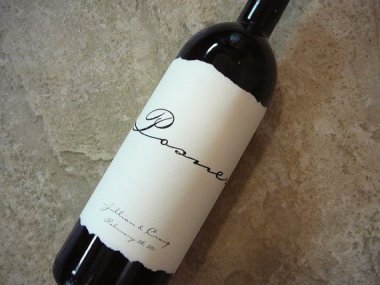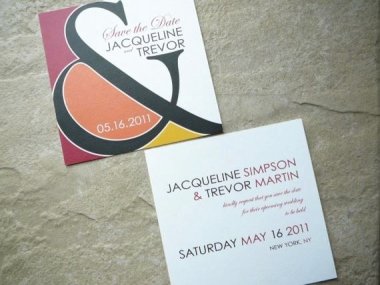 Q: What is the biggest misconception about design studios'?
- One comment I get often - People think that only 'large budget brides' can afford to hire a good designer for their wedding printed coordinates. I've seen so many invites and other wedding projects that the bride doesn't particularly like, but she 'settled' on it because that's what she thought would be the most economical route.  Having a graphic designer as a part of your wedding planning team is an excellent resource for creating your overall look and feel of the event, and really doesn't have to cost an arm and a leg.
Q: What are a few mistakes brides make when choosing a graphic artist? 
- The biggest mistake anyone can make is not asking for samples.  Sure, you've seen their portfolio and what they have to offer, but by all means, get yourself a sample of what YOUR actual piece will be. Sometimes a full sample just isn't practical (for example, a large format print), but you should always get paper and print swatches - at least in your colors and using your materials/medium. 
 
Q: What things should a bride look for when hiring a design studio?  How important is it for the Bride to feel a connection with artist?
- The first thing to look for is pretty obvious - look at their design style.  Does it have the look and feel that matches both you and your event? If not, are they open to suggestion and change, or would they be able to do custom work for you?  However, if their style is completely the opposite end of the spectrum (say you're looking for something clean-edged and modern, but all of their work is loose and sketchy) that's probably not the studio for you.   Also look for a studio that's willing to talk to you about your event and the ideas you have. Even if you've only thought of a few things here and there, tell them or show them your inspiration pictures....then sit back and gage their response. Are they on track? Do the 'get' it?  We're only human, and it's true that not everything communicated through email comes through exactly as we intend it to be, so definitely do you best to clarify your ideas if the response isn't great....but if you're getting no where with it after a couple of attempts, perhaps you should move on before wasting much more time.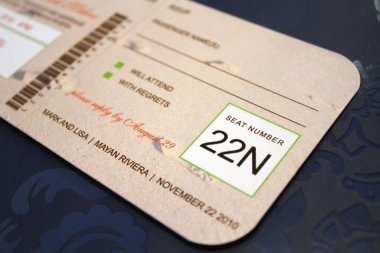 - The connection with your artist all depends on what type of relationship you'll have with them.  If you're just buying a quick, <INSERT NAME HERE> type item and that's all you plan on doing with this studio, then it really doesn't matter...as long as the service and final product is good.  If you're looking to work with them any more than that, and especially if you plan on having custom work done, then I feel it's very important that you feel comfortable and connect with your artist.  At the absolute least, you should be comfortable enough to tell them what you're looking for and also be able to them when what they've come up with is just not quite right. It's definitely much easier to work with someone who understands what your vision is, so don't be afraid to talk to your artist! Personally, I love hearing about what little details a bride's planning on having for her wedding...and often, it's these little things that become key design elements!  It's really not uncommon for me to more or less get to know my brides over the course of their wedding planning!
Q: What is one of the worst things that can happen when booking a graphic artist? And can this be avoided with proper planning?
- By far, the worst thing that can happen (aside from the obvious problem of not getting what you expected) is running out of time.  Some things just can't be done last minute!  Oh sure, I've been cutting and scoring place cards at 11pm on the Wednesday before a wedding just so I can ship the package out overnight the next day, something like that's ok (definitely not my preferred timing, but it happens!) but even with best intentions, there are certain items that just take more time than what's available.
- Planning ahead is key. Ask your designer right from the start what their timeline is...and stick to it!  Try not to procrastinate when approving proofs, but don't rush it either. You absolutely want to make sure the details are correct, so don't leave it until the last minute and then rush through the proofing process.



 Q: We all have heard the horror stories about "bad" artist's what are some "tip offs" that a design studio might not be the right fit for a Bride?
- It's like when you hire the wrong handyman...the pictures of his 'work; look great, but then when he comes to actually build your deck, it takes him 2 months and the lousy thing's falling apart.  Get that sample in your hands and check for quality work.  I'd also be leery of working with a studio/artist that takes a long time to get back to you or replies to your questions with a limited answer. Are these people actually going to have your stuff done on time? Do they care if it's done on time? Or good quality for that matter?  
 
Q: If a client had endless funds what unique idea/service or products would you offer them? 
- Oh wow... when the funds are endless, the possibilities are endless! There are SO many gorgeous (read: Expensive) specialty papers out there just waiting to be used!  ...and I'm not talking the typical sparkly ones, or ones with flower seeds embedded in them... there's everything from banana leaf and other natural fibers (including awesome printable wood 'paper') to beautiful hand made sheets, to endless synthetics. Speaking of synthetics... how about printing your place cards on acrylic or engraving your seating chart into Lucite?  I can even print on metals, glass and etch into granite... or perhaps have your wedding monogram and table numbers cut out of aluminum and sandwiched between blocks of crystal?  That could be a little over board... but maybe not if the funds are endless!  A few down-to-earth ideas would be creating custom die-cut programs, or having your monogram foil stamped on a few key items.
 
Q: What is the one thing bridal clients should review in contracts with their studio?  
- Not all studios work on a contact basis, but regardless you should find out and get in writing (e-mail's fine) what's included in the package/price.  Is it everything you wanted/needed? And most importantly, is it what you agreed upon with the designer?  The last thing you want is to find out that you're not getting what you expected...and now it's too late, or worse - the invoice is more than you budgeted for!  Hopefully whoever you work with will be upfront with you and flexible, but unfortunately not everyone is.
 
Q: What is the one thing you wish all of your clients knew when working with your company?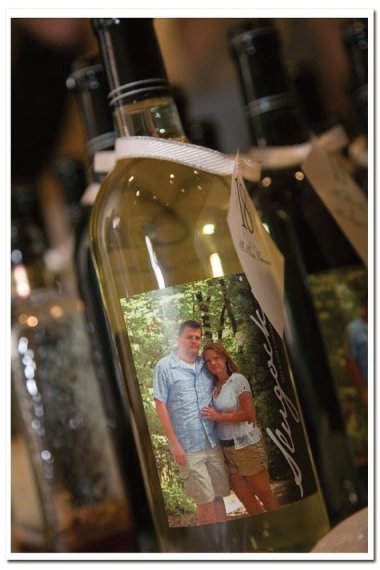 - If you like the style, but don't see something in the shop that's
exactly
what you're looking for, by all means ask for what you want!  It's funny, despite the name being Absinthe CUSTOM Printing, clients have a tendency to think that if an item looks a certain way, uses a certain font or color, than it can't be changed.  That's the beauty of working with a designer - you don't have to buy some 'cookie cutter' design off the shelf - it's all custom and can all be changed!  Feel free to mix and match elements from one design to another...and if it's not quite right, try another combo.  It's what we do...don't be shy!
Q: For Brides that are on a budget, are there options for them to help lower cost on stationary?
- Absolutely. I believe that everyone should be given the opportunity to have custom made stationery and other printed coordinates for their wedding.  There's something for every budget...and I'm also a strong believer that just because the price is cheap, it shouldn't have to LOOK cheap.  A big tip - sizing of individual items can play a big part in pricing!  If I can use less paper, do less printing, less cutting, less anything...of course I'll extend that on to you and it'll cost less!
October Vendor Spotlight

Rain came by Sarah from Sarah's Stylish Sweets in the most random of fashions, we found a card for her at a local store. We are always keeping our eyes out for vendors to whom we can match our clients with; and this vendor took our taste buds to new levels!  Not only are her cakes and cupcakes (Cuppies as she calls them) tasty, they are each crafted to the theme of her clients creating an edible piece of art for your guest to enjoy.  We highly suggest you check out Sarah's sugar flowers...we had to do a double take when we seen them, they look that real. We asked Sarah some questions that Brides should keep in mind.
A little bit about Sarah
 Sarah specializes in designing creative and stylish cakes and cupcakes!  She have been designing since 2006 and is an art student graduate. "I love my cuppies & am constantly inventing my own unique combinations!"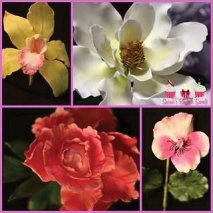 How soon should you start looking for a cake/caterer?
For the sanity of your cake creator, booking at around 4-6 months is a good idea to make sure you get the date you need and the designs and creativity you want!

 What made you want to make wedding cakes/ own a wedding shop?
I am graduate of fine arts from youngstown state university and I love to bake! So, I put two and two together and started doing cakes for friends and it became a hit! And I love it too! It is my art outlet!!!!! Plus, I love "love" and wedding so why not add more love into a day FILLED with LOVE!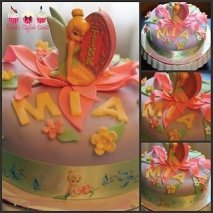 Do you personally make the cakes?
I personally do ALL the baking and ALL the decorating myself. From top to bottom! Cake, Frosting, Flowers and ALL!!!!!

  What are the most popular cakes you make or sell?
Most popular is "The Woodstock" which is a tye-dyed cake and also my "Reeses Revelation". I gotta tell ya, cupcakes (cuppies....) are "hotcakes" when it comes to these flavors!!

 Do you have any memories linked to wedding cakes?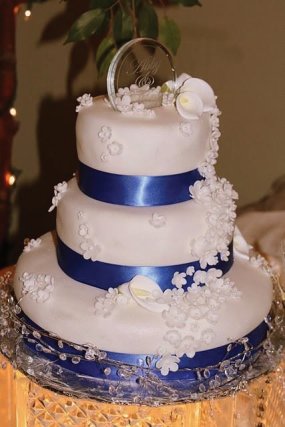 Deliveries are always memorable.... driving the cakes is also always memorable :-) but delivering and seeing the bride and grooms happy faces and actually getting to see the guests enjoy it and be in "awe" of it and take photos of it is amazing to me.......
  If you could, what would you change about how you make the cakes/ display the shop?
The only thing I would want to change is to have an assistant to help me!!!!!

Is it your passion to make wedding cakes/ be a wedding shop owner?
It is DEFINITLY my passion, I love "LOVE" and love "ART" for my passions fit nicely into the world of wedding cakes & cuppies!

  What is it about weddings that draws you to that type of career?
Loving "LOVE"! and the love of being creative and making people happy!
 How long does it take to make and decorate a wedding cake?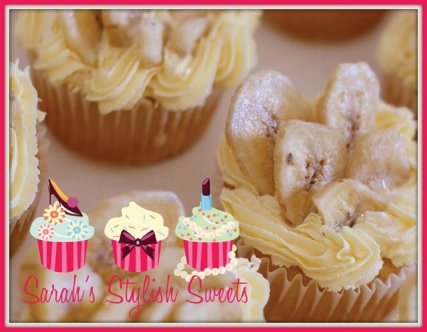 2-3 days prior to the date. If it involves handmade sugar flowers weeks in advance those are created! 
What part of your job do you enjoy the most?
I love being able to do beautiful cakes and flavors that people will talk about and remember. I also love it when people I don't know talk about a great cake they saw on facebook and it was mine & they didnt know it was me... That has happened a few times and it is the BEST feeling!!!!!!
Check out Sarah's Website
HERE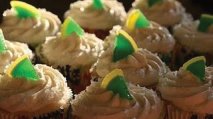 To contact Sarah Ritchie
440-221-9659
/